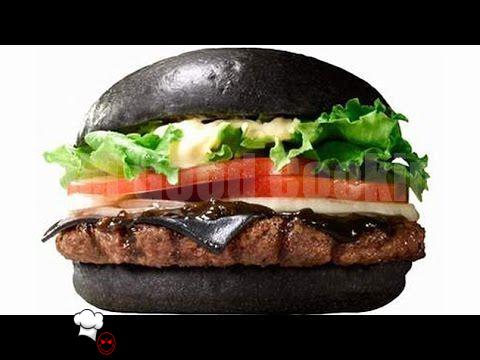 Who knows how many cheeseburger-noshing rules will be broken by this new sandwich from Burger King, but hey—anything's better than meat-scented perfume, right? BK Japan's "Kuro Burger" (or "Black Burger") is apparently hitting restaurants there on Sept. 19, according to promotional images shown on the restaurant's Facebook page. The "goth-like" burger, as the Guardian calls it, will feature beef patties coated in black pepper, black cheese and buns made with bamboo charcoal, and an onion-garlic topping made with (wait for it) squid ink, Narinari.com reports via Kotaku.
The chain says it's the third time it has released black-themed burgers and that consumers have generally given them a "favorable reception" in the past, notes the Guardian. Advance buzz on Twitter seems split: Reaction ranges frommildly curious ("hmm id like to try this") and overly excited("Holy crap! Give me seven of them!") to creeped out ("A very eerie burger, like the grim reaper ordered it") and flat-out disgusted ("Has Burger King created the least appetizing menu item ever?"). The burgers will—perhaps predictably—only be around for a limited time, notes Kotaku.
I love trying different things, but this Black Burger would never be one.  I have a rule I follow and have always followed since I was a little kid.  If it looks nasty….It is nasty!  Why???  I don't get it japan!