Hello and Welcome back to http://DAMGoodCooking.com
Today i have a quick, and easy pizza Recipe for ya!  Scroll below to gather the ingredients and let me know what you think!  BLT Pizza… Two thumbs up!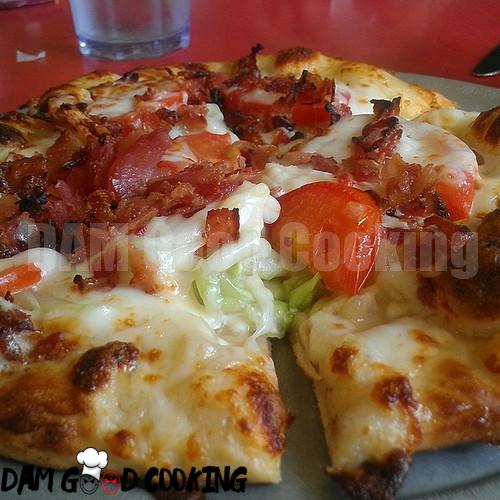 INGREDIENTS
1⁄2cup mayonnaise (I prefer Miracle Whip) or 1⁄2 cup salad dressing (I prefer Miracle Whip)
2teaspoons dried basil
1⁄2teaspoon garlic powder
1⁄8teaspoon onion powder
1(16 ounce) prepared pizza crust, Italian bread shell or 1 (16 ounce) your favorite homemade prepared pizza crust
12slices bacon, cooked and crumbled, divided (I use turkey bacon)
3⁄4cup cheddar cheese, shredded (I've used Monterey Jack instead as well)
3⁄4cup mozzarella cheese, shredded

TOPPING

1 1⁄2cups lettuce, shredded
2medium tomatoes, thinly sliced
DIRECTIONS
In a bowl, combine mayonnaise, basil, garlic powder and onion powder; refrigerate for 1/2 hour or more.
Place the pizza crust on an ungreased 12-inch pizza pan.
Spread mayonnaise mixture over crust.
Set aside 1/4 cup bacon.
Sprinkle remaining bacon, cheddar cheese and mozzarella cheese on crust.
Bake at 425 degrees Fahrenheit for 8 to 12 minutes or until cheese is melted. If doing a homemade crust, I bake mine at 375 degrees Fahrenheit for about 25 to 30 minutes or until done.
Top with lettuce, tomatoes, and reserved bacon.
Cut into wedges and serve. Enjoy!
[wpurp-searchable-recipe]BLT Pizza – – – [/wpurp-searchable-recipe]