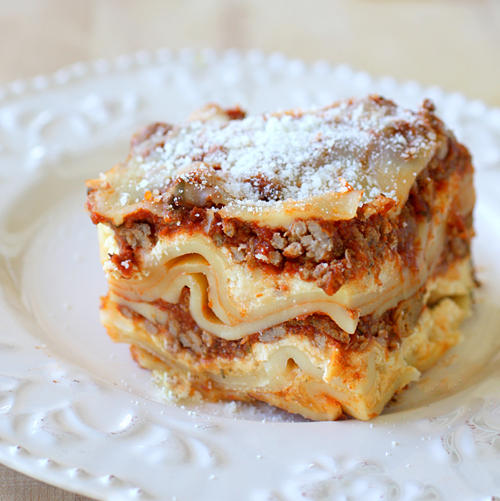 This lasagna tastes like you spent all day making it without all of the work.
Something quick, delicious and the family will love it!
Check out the Ingredients and recipe below!
Ingredients
1 pound bulk Italian sausage
1 medium onion, chopped (1/2 cup)
3 cans (15 ounces each) Italian-style tomato sauce
2 teaspoons dried basil leaves
1/2 teaspoon salt
2 cups shredded mozzarella cheese (8 ounces)
1 container (15 ounces) part-skim ricotta cheese
1 cup grated Parmesan cheese
15 uncooked lasagna noodles
Directions
1 Cook sausage and onion in 10-inch skillet over medium heat 6 to 8 minutes, stirring occasionally, until sausage is no longer pink; drain. Stir in tomato sauce, basil and salt.
2 Mix 1 cup of the mozzarella cheese and the ricotta and Parmesan cheeses. (Refrigerate remaining mozzarella cheese while lasagna cooks.)
3 Spoon one-fourth of the sausage mixture into 6-quart slow cooker; top with 5 noodles, broken into pieces to fit. Spread with half of the cheese mixture and one-fourth of the sausage mixture. Top with 5 noodles, remaining cheese mixture and one-fourth of the sausage mixture. Top with remaining 5 noodles and remaining sausage mixture.
4 Cover and cook on Low heat setting 4 to 6 hours or until noodles are tender.
5 Sprinkle top of lasagna with remaining 1 cup mozzarella cheese. Cover and let stand about 10 minutes or until cheese is melted. Cut into pieces.
[wpurp-searchable-recipe]EASY SLOW-COOKER LASAGNA – – – [/wpurp-searchable-recipe]