I'm here at our Nor-CAL Warehouse, just finished up some coding and now getting inventory prep for shipping (for one of our other Businesses Seller Addiction), and my tummy starts screaming "FEED ME NOW!!".  I really want a burger, but I got leftovers instead – (which I'm very thankful for).  As I'm sitting here eating, I start thinking of all the crazy places and restaurants my wife and I have been all over the world.  This one little place stood out the most in my thoughts today (Probably because I'm craving a good burger).  It was this little burger place in Miamisburg Ohio called Hamburger Wagon.  I would visit this place once or twice a week when I was stationed out at Wright Patterson Air Force Base a very long time ago.   This burger wagon has been there since 1913!!  (That's how you know they are doing it right!)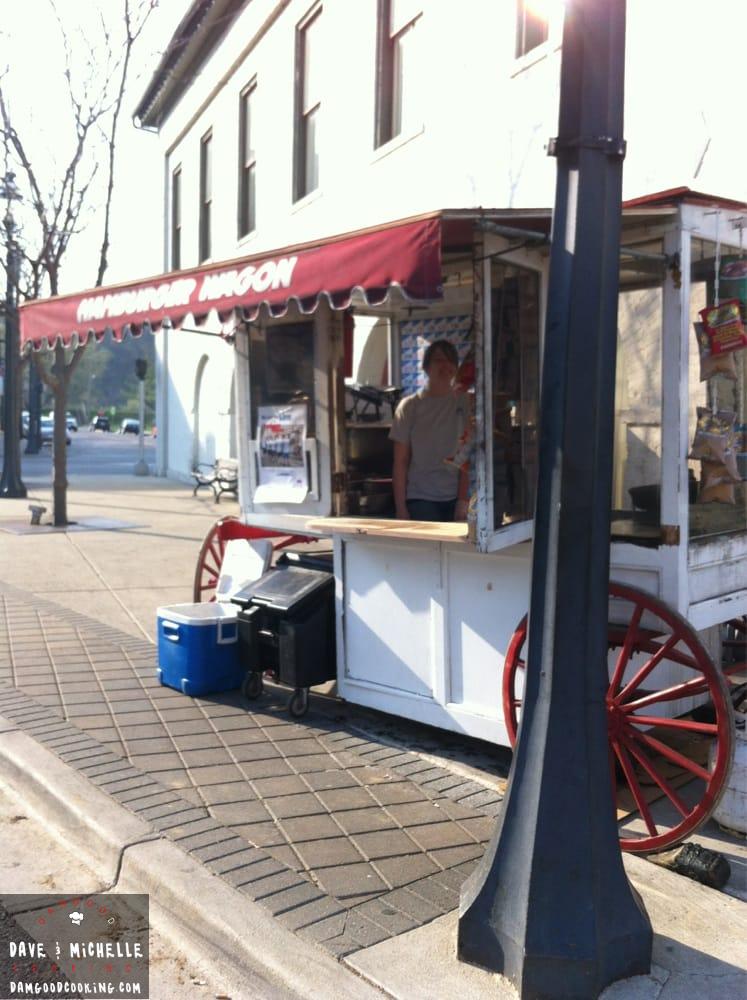 This place is Fantastic!  Very Simple, but Amazing!  It an old fashion Burger Wagon parked on the corner of a busy intersection.  If you ordered a burger, you got the bun, a patty, onion and pickle.  Nothing else!  That's right, no ketchup, no mustard, no tomatoes.  Just those 4 little things.  But you know what? That's all you needed!  This place is Awesome!
Here is the menu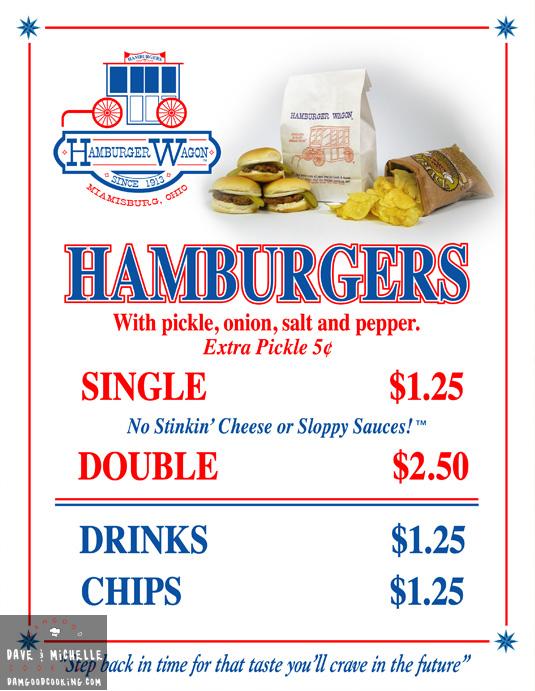 Can't get any simpler than that!
I took my wife two or three times in the past an Unfortunatley she didnt like it at all (I always say if you don't like something, try it one more time for the real answer), but she didnt like it on all occasions.
***(DISCLAIMER)***  This was when we very first met (almost 16 years ago) and she was no where close to being a FOODIE!!!  I remember back than – every time we went to a restaurant, she order the same thing no matter where we went.  'Chicken Parmesan'.  Every single time 'Chicken Parmesan'.  No Steak, no lobster just Chicken Parmesan'!
Now shes on the edge like myself,  we both will try almost anything, as a matter of fact, some of our best spots to visits now came from a random throw of the dice while driving by.  (Could be what most may see as a 'hole in the wall type' of place or a '5 star restaurant' – didn't matter)
I think we need to add the Hamburger Wagon to our agenda when we go back East to visit family this Summer.   Even though its about 3 hours away from the Fam, it would be worth it to see her reaction now and also to see if its what I remembered.
Hamburger Wagon… I'll see you soon my friend!!  My wife will also….shes got new taste buds ?
Check out Hamburger Wagon's  website for more info.
Share with us some cool little hidden gems you may have found!  Thanks for stopping by, have a wonderful weekend!
Dave