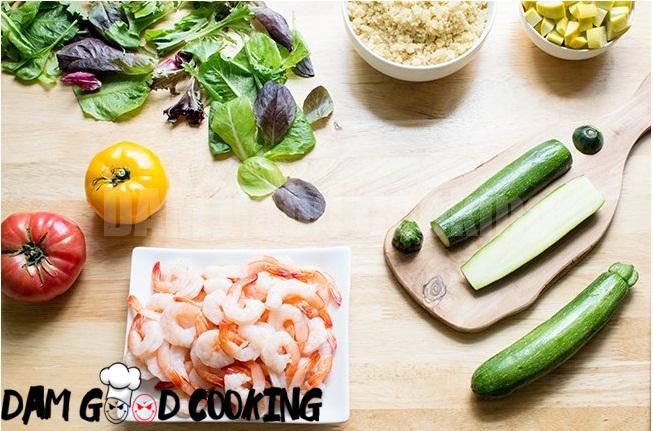 Time to put on the apron, get your good kitchen knife and lets get busy.  The family wants something different today and I got just the recipe for you!
Scroll Down for the Ingredients and Recipe!
Prep time: 20 minutes
Cook time: 10-12 minutes
Yield: 4 servings
Serving size: 2½ cups
Ingredients
2 cups reduced-sodium chicken broth
1 cup quinoa, dry
2 tablespoons extra virgin olive oil, divided
1 pound medium shrimp, peeled and deveined
salt, to taste
pepper, to taste
2 small zucchini, medium dice
2 small yellow squash, medium dice
1 large tomato, diced
6 cups spring mix (6 ounces)
4 tablespoons light balsamic vinaigrette dressing
Instructions
Heat a medium saucepan over high heat. Add 2 cups of chicken broth and the quinoa. Bring to a boil, then reduce the heat to low. Cover and cook until quinoa is cooked, 13-15 minutes.
Remove the quinoa from the heat and let stand for 5 minutes; uncover and fluff with a fork.
Heat a large skillet over medium-high heat and add 1 teaspoon of the oil. Add the shrimp, cooking for 30 seconds to 1 minute per side. Season with salt and pepper, to taste, and remove the shrimp from the skillet and set aside.
In the same skillet the shrimp was cooked in, lower the heat to medium and add the rest of the oil.
Add the zucchini and squash, cooking until they begin to get tender, 6-8 minutes. Add the tomatoes during the last minute of cooking, to soften it slightly, then remove the skillet from the heat to cool slightly.
Add the cooked shrimp and quinoa to the skillet with the vegetables and stir to combine.
Plate the lettuce and layer the quinoa and shrimp mixture over it, then drizzle the light balsamic dressing over all of it.
Nutrition Information
Per Serving: (2½ cups)
Calories: 399
Calories from fat: 117
Fat: 11g
Saturated Fat: 2g
Cholesterol: 143mg
Sodium: 915mg
Carbohydrates: 48g
Fiber: 7g
Sugar: 7g
Protein: 25g
SmartPoints: 8
[wpurp-searchable-recipe]Easy Shrimp Quinoa Bowl – – – [/wpurp-searchable-recipe]