Hey guys and thanks for tuning back in to DAM Good Cooking.
Recently my wife and I made stop in Walnut Creek, CA – I was going for business, and of course, wifey was going to shop.  Its home to a lot of Upscale / High end shopping, and has a plethora of different stores compared to our small town we live in.  I told her the night before, I have a business meeting in downtown Walnut Creek tomorrow.  When I woke up, she was already dressed, credit cards in hand and said "I'm going with you".  LOL – those who know us, know I'm an early bird and my wife usually gets up after me.  This means she was ready to start swiping 🙂
I dropped her off in the heart of the shopping area and proceeded to my meeting.  After about an hour, finally wrapping up the meeting, I called her to find out her location so I could pick her up.  Since its now around lunch time, we both decided to get something to eat – being the foodies we are, we wanted something different (preferably a Mom and Pops restaurant versus a big chain).  I told her, "Hey when I was coming to pick you up, a sign caught my eye, I think it said Georges Greasy Burgers".  Boy was I wrong!!   She said "I don't want no Greasy burgers!!".  After giving her the sad puppy eyes, and mentioning how many shopping bags she had and making sure she had a wonderful time, she just decided to give in.  OFF TO GEORGES GREASY BURGERS WE GO!!
After finding a spot to park and walking over to the restaurant, she said "Where is it?".  I pointed at the sign with the  proper name, which obviously I missed interpreted as I speed by on my way to pick her up.  Its 'George's Giant Hamburgers'!  Well that still sounds delicious, lets give it a try, we are here now!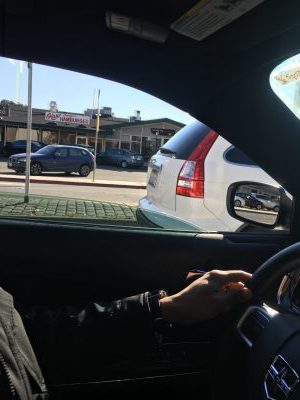 When you first walk in, it has this old fashion dinner feel (without the musty smell) – loving it already.  has a family portrait on the wall of who I'm guessing is the son, who served in the United States Marines!  Hoo-Rah!!!  I believe he is the cook at this location now!
We glanced over the menu and decided on one hamburger and one cheese burger with an order of fries to split.  It probably only took maybe 10 mins (was a busy lunch crowd), and our order was up.  The Entire staff (Assuming all family) was extremely delightful, courtesy and provided outstanding customer service.  Even though the burger was a few bucks more than I would have like to have paid, it was worth every DAM Bite.  Plus everything in Walnut Creek is expensive, so a burger at this cost, is actually very cheap!  Especially for the size and taste that comes with it!!  I don't remember off hand the exact price, but I want to say it was slightly over $20 bucks for the Hamburger, Cheeseburger, Side of Fries, Large coke and Bottle water.
This place gets 5 Stars from the both of us, was definitely worth the price, trip and a quick blog post.  If you are ever in Northern Cali (Bay area, be sure to check out George's Giant Burger located at the following address (You will not be disappointed!)
1491 Newell Ave
Walnut Creek, CA 94596
Phone: 925.939.4888
Hours: 11 AM – 8 PM (Monday-Saturday)
The Website and Menu can be accessed here
All Regular hamburgers are 1/3 pound, made to order and served plain on a toasted buns.    They have all the fresh vegetables and condiments near the pick up area for you to load your burger the way you love too.  This place is amazing!!!!!
Let us know if you have been there before or planning on checking it out.  Also let us know of your favorite burger joint!
Thanks for tuning in, time to sign out, have a wonderful day
DAM Good Cooking