Ok folks, we decided to list and share details about our first home made pizza.  Why?  Because the 2nd one we made over this past weekend, after carefully learning from our rookie pizza making mistakes, turned out fantastic!  That's right, tomorrow I will share with you our pizza redemption!  But today you get Vegetable virgin Pizza making loving instructions right here!  It was good, I must admit, this is for those that want to disguise the taste with the ugly outer appearance shell, so when you politely ask your family or friends "Hey you want some?", you get the response you were hoping for – "NO THANKS!"
Well good, more for me!
So lets get started!
Here what you will need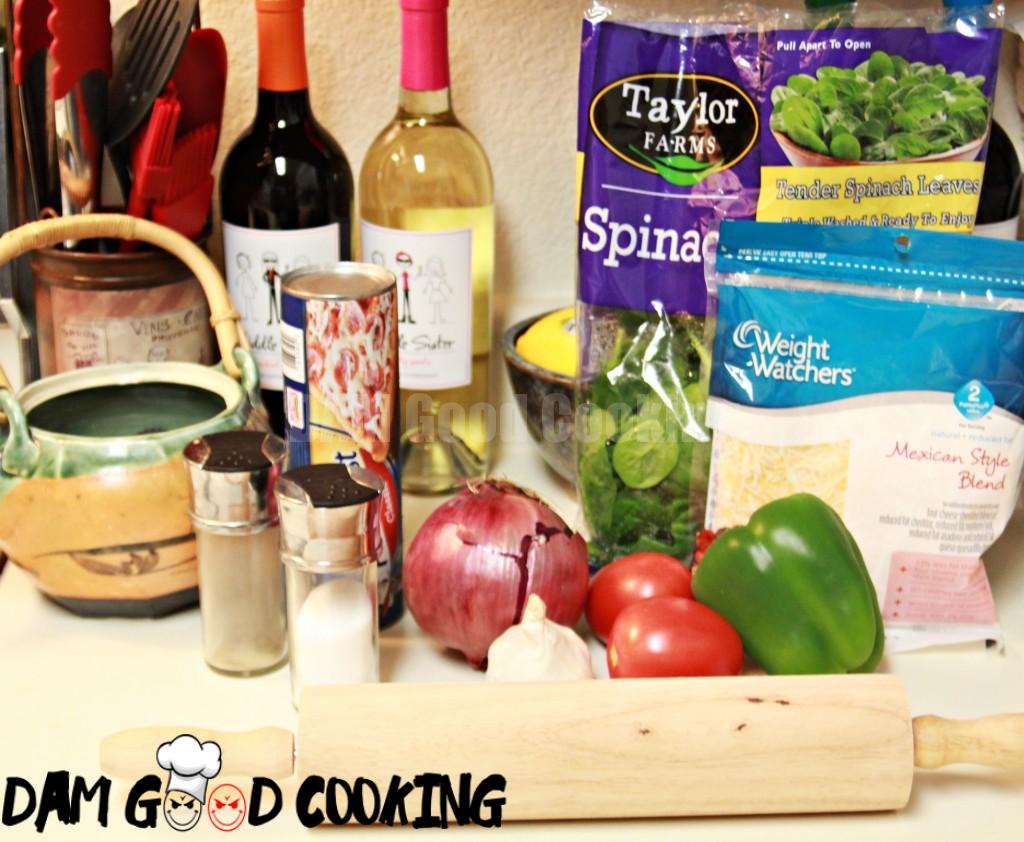 2 mini tomatoes
 onions
green pepper
pizza crust
spinach
Mexican style cheese  (Mozzarella might taste better for you – we were just seeking a different taste since we did not include pizza sauce)
garlic
salt & pepper
We both love to cook with garlic, at first we hated pealing it, chopping it (the basic break down method).  Pieces would fly everywhere, and it just seemed to be a bit of a hassle.  Then my wife stumbled across this great gadget for less than 10 bucks.  It works miracle!  You can get one similar HERE .  amazon has pricier ones that are double, even triple the cost, but so far our little less then 10 bucks garlic press has done the job great!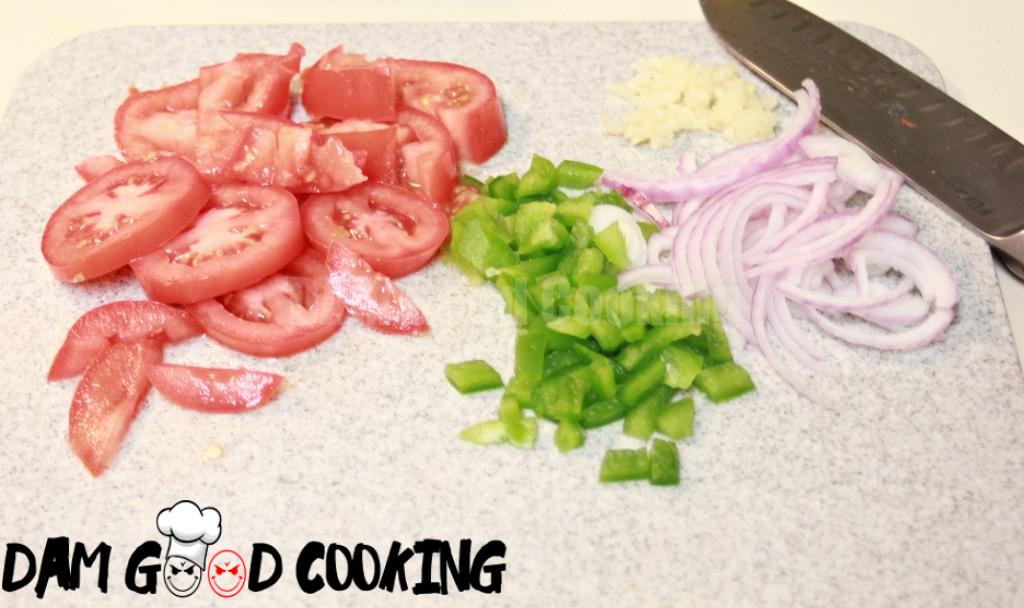 Start by crushing your garlic, (hope you have a garlic press!)  followed by chopped tomatoes, green pepper and onions.   We don't really have a required amount, I never follow a recipe to the exact.  I may like more onions than you, you know what you and your family like,  so chop to meet those expectations, we don't grade you after prepping and enforce a chopped vegetable count for a passing grade.  Below you will see our desired amount for this medium sized pizza.
SIDE NOTE (we thought one can of pizza crust would have been enough to make a large Pizza.  WRONG!!!!  A Large if your a smurf maybe, its a medium at best.  If your expecting a large, expect to be hungry later and disappointed).  You will need at least two Pizza Crust rolls for a large.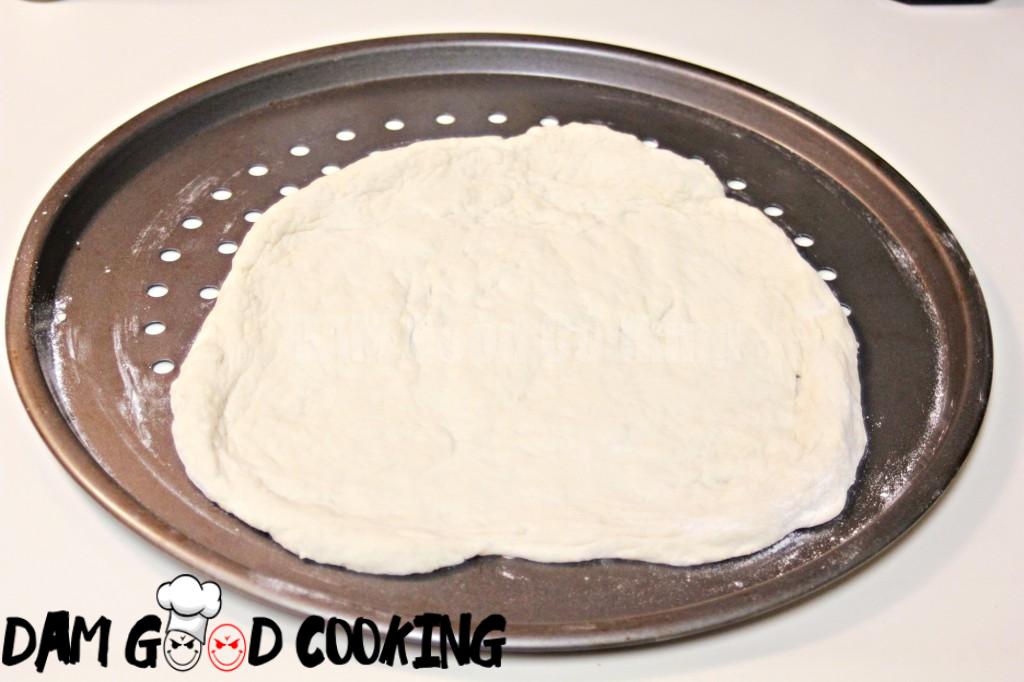 Ladies and gentlemen, take a look above at this extra smedium sized pizza.   We did everything in our power to stretch it to the end of the pan.  Unfortunately our forced pizza stretch shaped our meal like an ugly pancake.   And to top it off, we can't get the damn proper shape back after 15 mins of toying with it…Oh well, this will do!  No longer a Pizza Virgin, we did so much better on the next one I will be showing you hopefully tomorrow.
Next add you spinach, I figured a handfuls should work.  My mom use to say a couple of bites of spinach will give you big muscles like Popeye.   She told me this when I was 5 – and since my pizza looks like the size most restaurants would serve to a 5 year old, a few bytes of spinach applied will do just fine. =)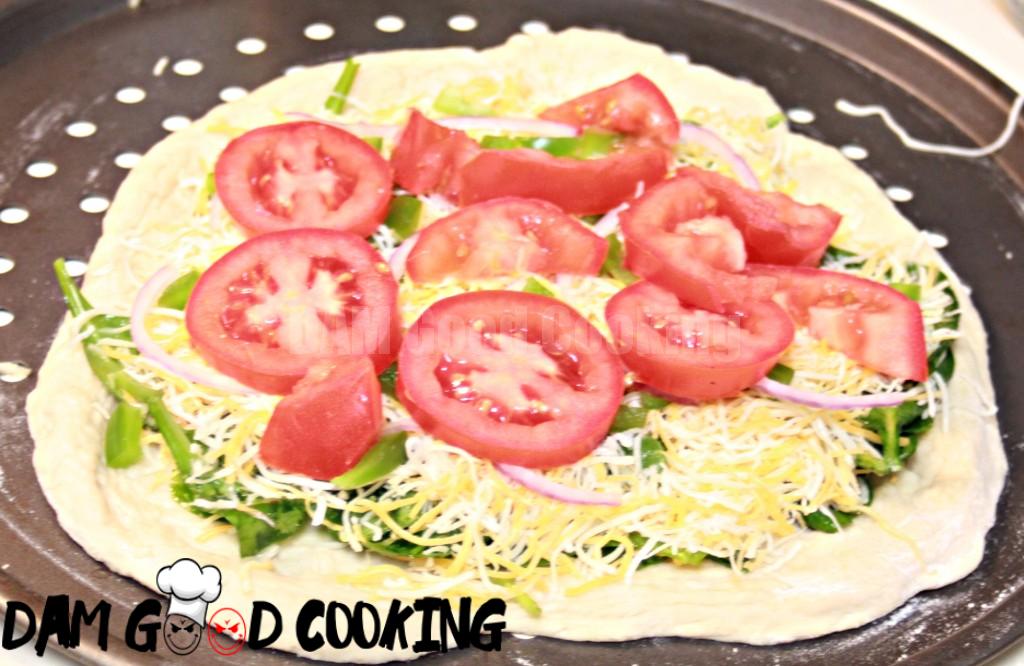 Sprinkle on the garlic, add the onions and green peppers, cheese and tomatoes on top. <– In that order.  Last but not least, sprinkle some salt and pepper on top for extra flavoring.
SIDE NOTE – Get creative, when you stumble across a recipe, go for gold, if you think jalapenos, or red peppers would be great…ADD EM!  Just be creative and have fun, that's my secret to cooking.  It should be fun, not a chore, if you hate cooking, I'll start a new site for you.  Maybe DAMGoodMicrowaving.com….  TBD!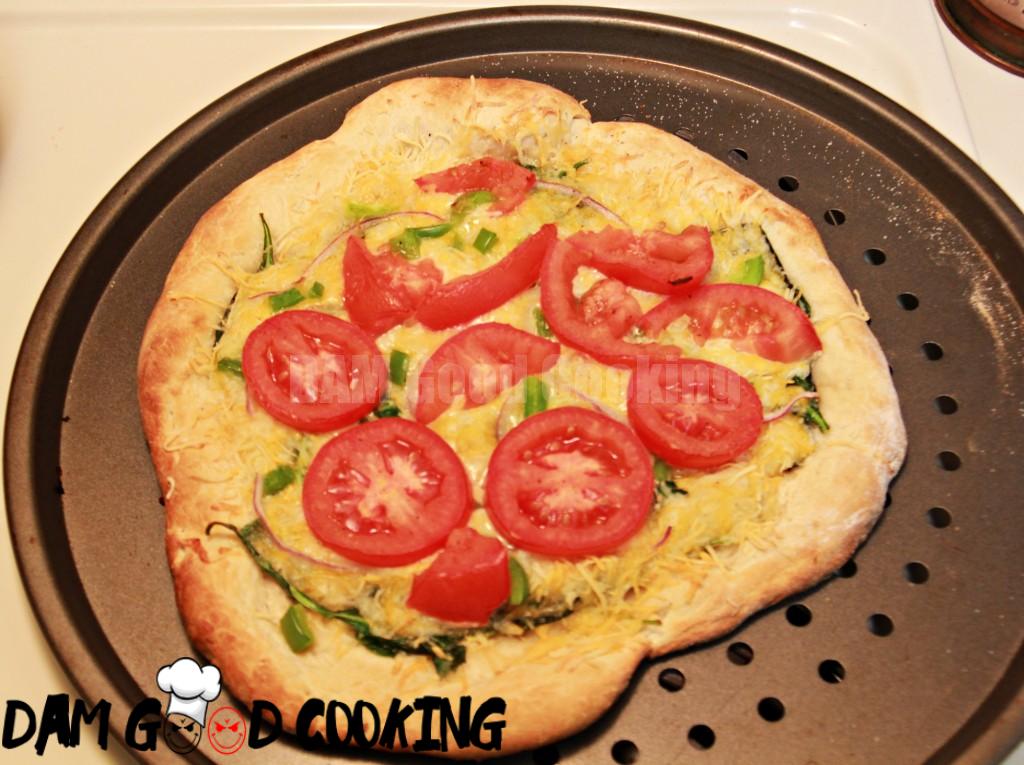 Ok, if you done laughing, let me explain "In my Kevin Hart Voice" .  This may look like it came from the dollar tree, but with the love that was put into making it, its definitely better than Digiorno.  This Pizza is better then anything you can get from a fast food joint, plus its more healthier.   Remember, everything that glitters isn't gold, and looks can be deceiving.  I don't know if I was extremely hungry that day, but this Pizza was the BOMB.com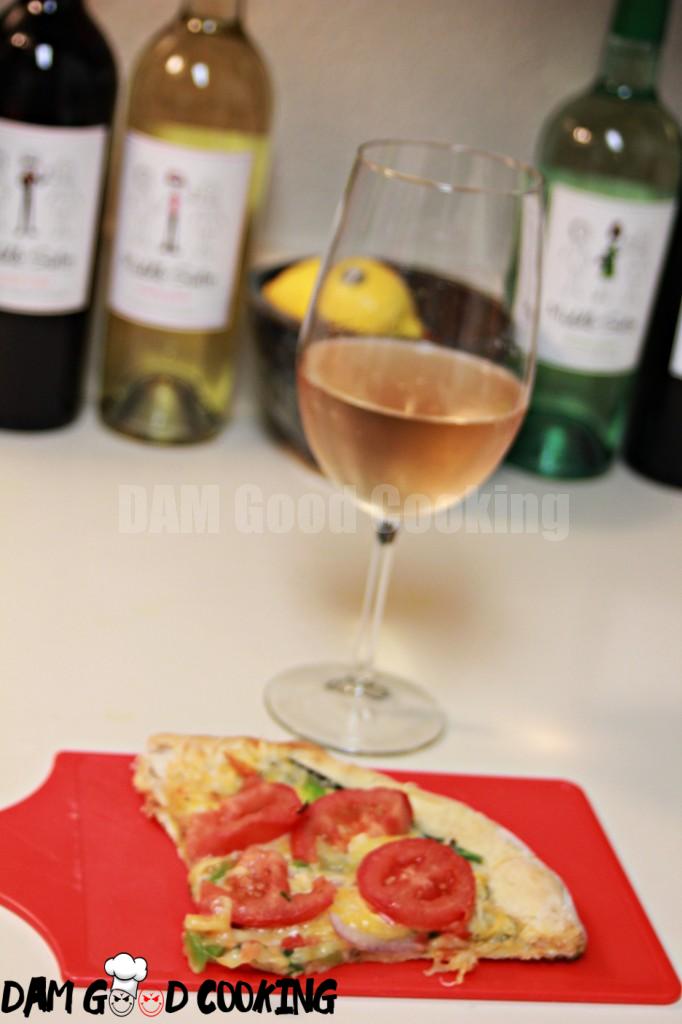 Stay tuned for tomorrows "Your not a Virgin anymore at making Pizza" Recipe!
Have a wonderful evening folks
Dave[wpurp-searchable-recipe]My First Home Made Pizza (It Looks sad, but taste Delicious!) – – – [/wpurp-searchable-recipe]