USER SUBMITTED POST
Anyway I think this is going to be the summer of the burger. Even after recently posting Chipotle Cheddar Turkey Burgers with Avocado Crema and Peppercorn-Crusted BBQ-Ranch Burgers with Chili-Lime Crunchies, I couldn't resist creating another burger recipe by mixing one of my favorite foods, Sabra Roasted Red Pepper Hummus, into lean ground beef patties then topping them with sweet-sticky caramelized onions and a thick schmear of homemade Smokey Mayo.
Roasted Red Pepper Hummus Burgers with Caramelized Onions and Smokey Mayo is my favorite burger combo yet!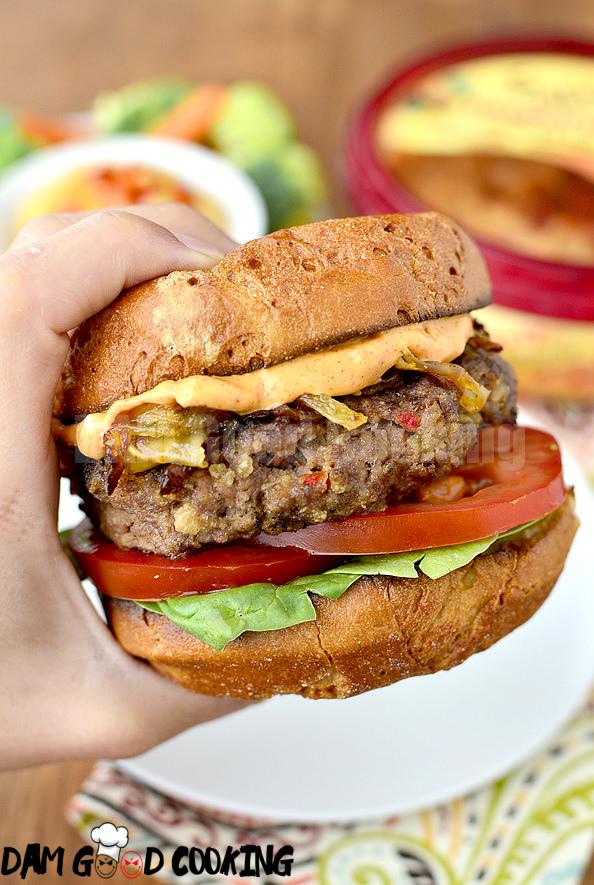 Many of you know that I am obsessed with Sabra hummus, whom I created this burger recipe for, but perhaps you didn't know to what extent. Yes, this is my hummus stash. I am not ashamed.
A friend texted me a picture of her half-eaten tub of hummus last week lamenting over the fact that she'd eaten half of it in one day. I sent her this pic with the caption, "I win."
Everyone knows that hummus is awesome for dipping with fresh veggies, topping mini turkey meatloaves, and jazzing up plain crackers, but did you know it's also unbelievable when mixed into plain ground beef and then grilled?
These burgers are the bomb.com. All you do is combine ground beef with Sabra's Roasted Red Pepper Hummus, salt, and pepper, and then grill until the burgers are cooked through and have a nice crust on the outside. Fabulous. Then, THEN you top 'em with sweet caramelized onions and a Smokey Mayo which is a cinch to make. I normally only use mayo when making my Mom's Classic Potato Salad, but I made an exception for these burgers and I'm glad I did because this combination is absolutely killer. Since this is a cheese-less burger you can slather on the mayo with a little less guilt, too.
While it was tough to part with 1/2 cup of my favorite flavor of Sabra hummus for these burgers, it was well worth it. I have made these burgers twice in one week and can't wait chow on 'em again!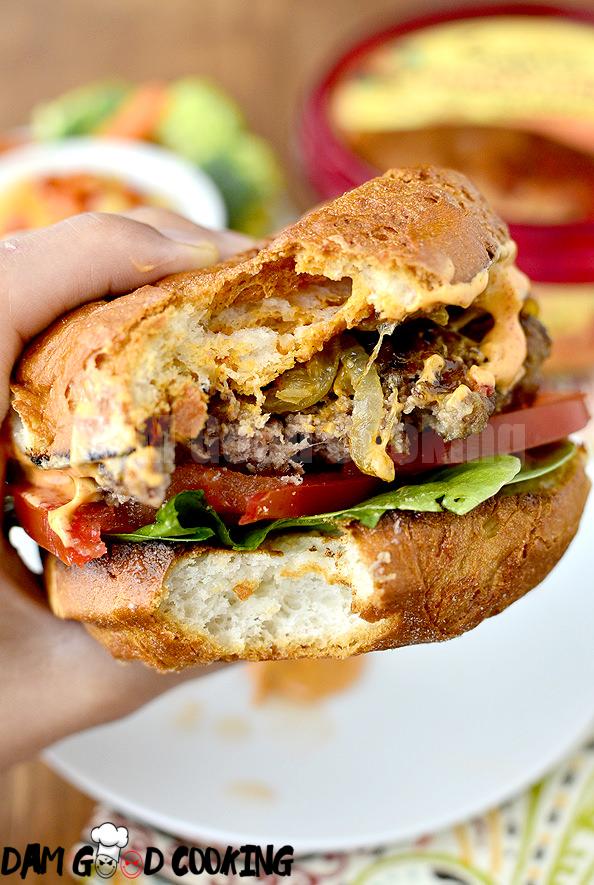 Start by making the caramelized onions. These burgers are good on their own but they're GREAT when mixed with sweet caramelized onions.
Slice 1 jumbo sweet onion (like a Vidalia onion) then add to a large skillet over medium-heat with 1 Tablespoon extra virgin olive oil and a dash of salt. Cook the onions, stirring every so often for 25-30 minutes or until they're deep golden brown. MMMM. Set aside and don't snack on 'em too much. You won't have any left for the burgers!
Next make the Smokey Mayo which is just 5 Tablespoons mayonnaise (I used light – use whatever you want but don't use fat free. There's nothing ok with FF mayo!) mixed with 2 teaspoons fresh lemon juice, 1 teaspoon smoked paprika, and salt.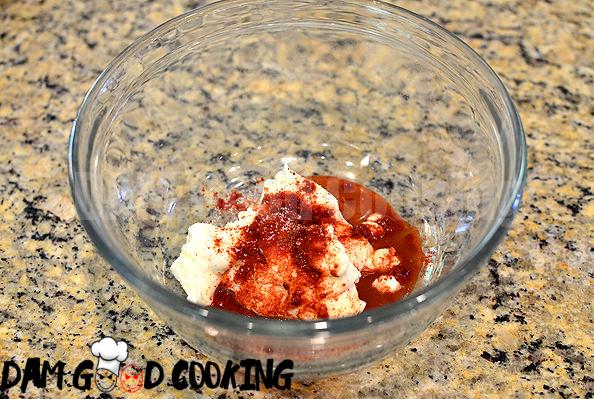 This is the smoked paprika I used, by the way. It is so incredible! Deeply smokey, it's awesome in this mayo concoction and would also be great in a rib, chicken, or steak rub. If you can't find smoked paprika, a teaspoon of chipotle in adobo sauce would work too.
Stir to combine then stash it in the fridge.
Burger time!
Add 1lb lean ground beef to large bowl then add 1/2 cup Sabra Roasted Red Pepper Hummus and lots of salt and pepper.
Next either crush 1-1/4 cups Rice Chex in a plastic bag with a rolling pin if you need a gluten-free bread crumb option, or measure out 1/2 cup + 2 Tablespoons panko bread crumbs. I actually LOVE the Chex in here because they get super crunchy on the outside of the burgers!
Add the crumbs to the meat then mix until just combined and form the mixture into 4 patties.
Grill for 3-4 minutes a side over medium-high heat then let rest for several minutes. Make sure you don't flip until you have a nice crust on one side or the burgers can crumble. Give them time and you'll be fine!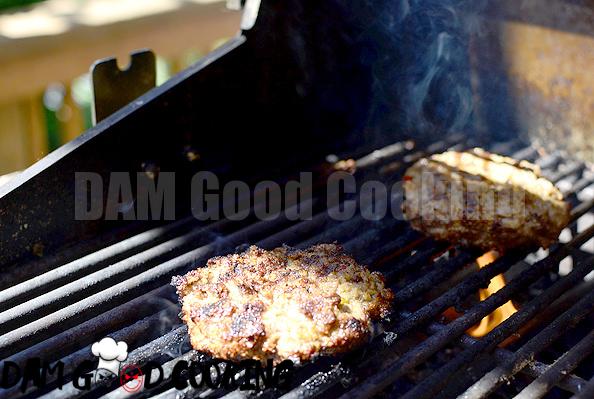 Pop the burgers onto grilled buns (Udi's Gluten-Free Buns for me!) then pile high with baby spinach, tomato, the caramelized onions, and Smokey Mayo. Open wide!