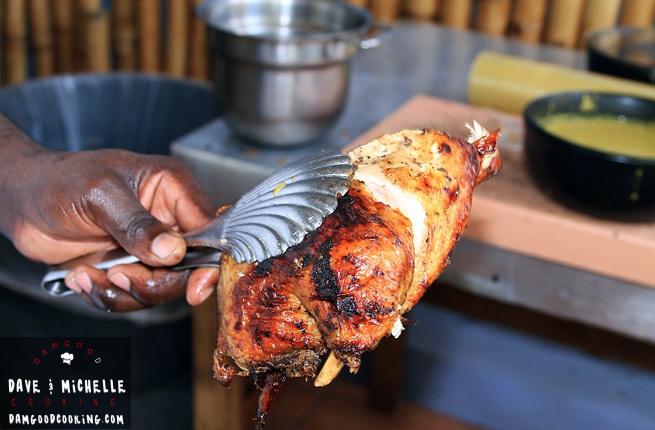 JERK CHICKEN
Where to Eat It: Jamaica
Jerk chicken is easily Jamaica's best-known culinary export, but if you've never eaten it on the island, you've never experienced the real thing. That's because anyone can make a jerk sauce (allspice berries, thyme, Scotch bonnet peppers, scallions, fresh ginger, and oil or soy sauce) and marinate chicken in it before grilling, but only in Jamaica is the meat cooked properly. All jerk chicken is cooked over charcoal, which imparts a smoky flavor while producing crispy, blackened bits of meat; in Jamaica, logs of fresh green wood are placed on grates over the charcoal, and the meat is cooked directly on top of the wood, absorbing oils and fragrance that significantly affect the flavor of the finished product.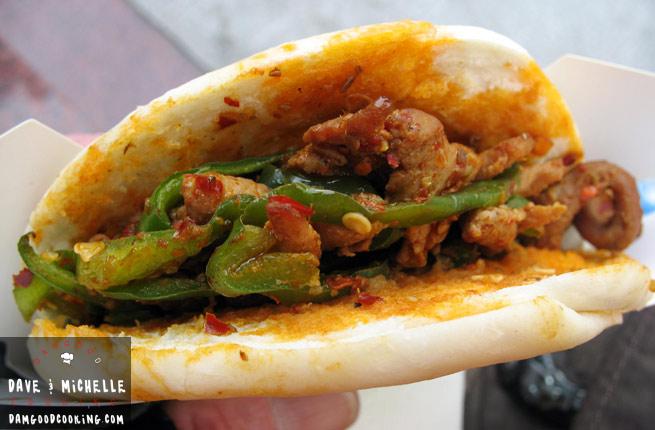 ROU JIA MO
Where to Eat It: Xi'an
Essentially a Chinese version of döner kebab,rou jia mo is one of the world's oldest sandwiches, dating back at least 2000 years. The traditional version combines pork that has been stewed in a heavily spiced (think lots of cumin) soup for several hours, which is then minced and stuffed in a flatbread with cilantro and mild peppers (beef is a common substitute in Muslim areas, and lamb is also popular in some regions). Rou jia mo originated in Shaanxi Province, whose capital is Xi'an (home to the famous Terracotta Army), but is now widely consumed in other parts of China. It's easiest to find in the northern part of the country, so look for it in Beijing if Xi'an isn't on your itinerary. And should you ever find yourself in Beijing, be sure to try jian bing, habit-forming crepes stuffed with eggs, cilantro, and crispy wonton crackers, made at street carts around the city.
BÁNH MÌ
Where to Eat It: Ho Chi Minh City
Bánh mì is a term for all types of bread in Vietnamese, but it's become synonymous with a mouthwatering sandwich that might best be described as a Vietnamese hoagie. A product of French colonialism in Southeast Asia, the bánh mì seamlessly combines Western and Eastern ingredients. Fillings vary, but a standard bánh mì consists of a baguette stuffed with meat (perhaps grilled pork, meatballs, or cold cuts), cucumber slices, sprigs of cilantro, pickled carrots and daikon, liver pâté, and a swipe of mayonnaise. They're increasingly popular and easy to find in the West (in somewhat less-authentic forms), but the best place to eat one is still on the streets of Saigon.
DÜRÜM
Where to Eat It: Istanbul
Translated as "roll", dürüm is a wrap made with flatbreads like Armenian lavash or Turkishyufka. Inside the wrap, you'll find typical typical döner kebab ingredients: spiced meat—usually lamb, though chicken or a beef-veal combination are sometimes options—cooked on a vertical spit then sliced off and topped with tomatoes, onions, cucumbers, and lettuce, along with herb-laden yogurt and hot sauce. If you've ever spent a late night out in a European city, you've likely had one of these to soak up some alcohol—döner (also known as shawarma) is arguably Germany's most popular street food—but the Turkish version, in which the rolled wrap is grilled to maximize crispiness, is as good as it gets.
SUPPLÌ
Where to Eat It: Rome
A smaller version of Sicilian arancini, these fried rice balls are named for the word "surprise" (albeit the French pronunciation), a reference to the oozing bit of mozzarella found inside. Though the recipe once included chicken gizzards, the ingredients have more or less stayed the same for the past century: rice, ragù made with ground beef and tomatoes, and mozzarella. Supplì were once sold by street vendors, but these days you can find the addictive croquettes at any Roman pizza spot or grocery store. The traditional recipe is still ubiquitous, but in recent years Romans have taken a liking to innovative versions that feature a wide—and, appropriately, surprising—range of ingredients.
PORK SATAY
Where to Eat It: Bangkok
You'll find satay throughout Southeast Asia, where beef and chicken are sometimes used, but pork is most popular in Thailand. Thin slices of meat are marinated in coconut milk, turmeric, and other spices before being skewered and grilled over charcoal. That's just one part of the dish, though, as satay is also traditionally served with tangy achat (a pickled cucumber salad) and sweet-and-spicy peanut sauce. Satay originated in Indonesia, but its popularity in Thailand—you'll see it being made on outdoor grills everywhere—is such that the rest of the world thinks it's a Thai dish.
TACOS AL PASTOR
Where to Eat It: Mexico City
Like many great street foods around the world, tacos al pastor is the result of one culture colliding with another. In this case, Lebanese people who emigrated to Mexico brought with them the tradition of spit-roasting meats, typically lamb. In local adoption, the meat was replaced by pork, which is marinated in dried chiles, spices, and pineapple before being cooked. Sliced off the spit like shawarma, the tender meat is then served on small tortillas with onions, cilantro, and, in some cases, a tiny bit of pineapple; lime juice and hot salsa are popular toppings.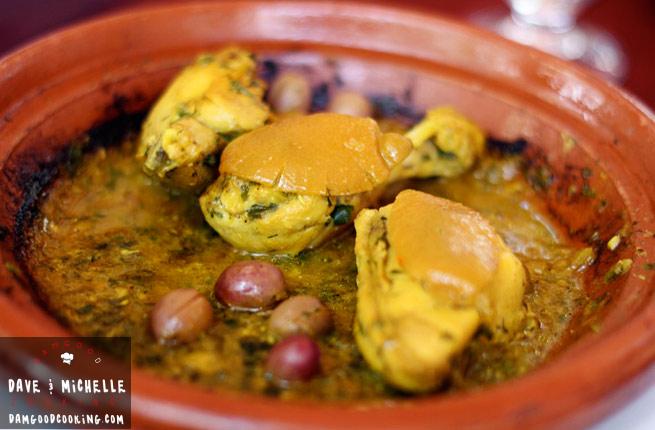 TAGINE
Where to Eat It: Marrakesh
Named for the earthenware pot in which it is cooked, tajine is a Berber stew from North Africa that is slowly cooked for hours over hot coals. Beyond that, there can be a lot of variation between one tajine and another, but the basic components are meat (lamb, chicken, or beef), vegetables, and lots of herbs and spices; fruit and nuts are also common ingredients. Typically served with couscous or bread, these irresistible stews are served everywhere in Morocco, from street stalls to the finest restaurants—but a humble dish like this is best eaten in non-gussied-up form in a simple setting.
CHORIPÁN
Where to Eat It: Buenos Aires
Sausage sandwiches are a staple of South American street food, popular in Brazil, Chile, Argentina, Uruguay, Peru, Bolivia, and Venezuela. The Argentine choripán is a model of simplicity: a grilled beef-and-pork sausage, split down the middle and placed on crusty bread, then topped with garlicky chimichurrisauce. It's a popular food item at sports venues, and it's also commonly served as an appetizer during the preparation of an asado, but you can find them at street stalls any day of the week.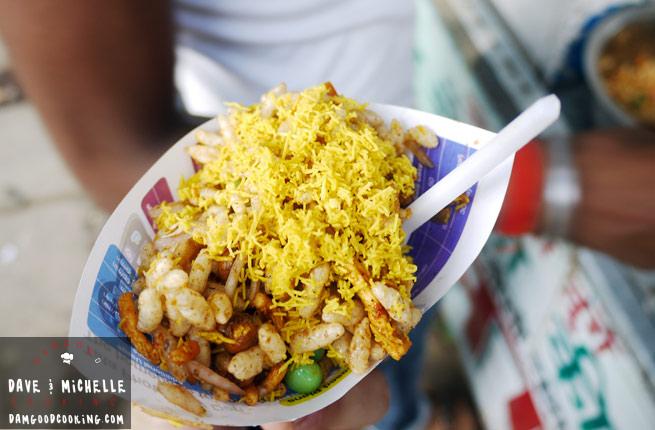 BHEL PURI
Where to Eat It: Mumbai
India's street snacks, collectively known aschaat, vary greatly from region to region, butbhel puri can be found in most parts of the country. Still, Mumbai is the best place to find the real deal: a combination of puffed rice, fried vermicelli-like noodles called sev, vegetables, spices, and chutneys. The result is an exciting balance of textures and sweet, salty, tangy, and spicy flavors. The dish is often associated with Mumbai's beaches, but it can found at street stalls throughout the city.
AREPAS
Where to Eat It: Bogotá
Typically eaten for breakfast or as an afternoon snack, arepas are filling flatbreads made from maize or flour that can be grilled, baked, or fried to pillowy perfection. Though arepas are often used to make sandwiches in Venezuela, that's not the case in Colombia, where they're commonly topped with butter, cheese, eggs, condensed milk, chorizo, or an onion-based sauce called hogao. If you want to feel like a true Bogotá local, go for the traditional breakfast of a plain arepa with a cup of hot chocolate.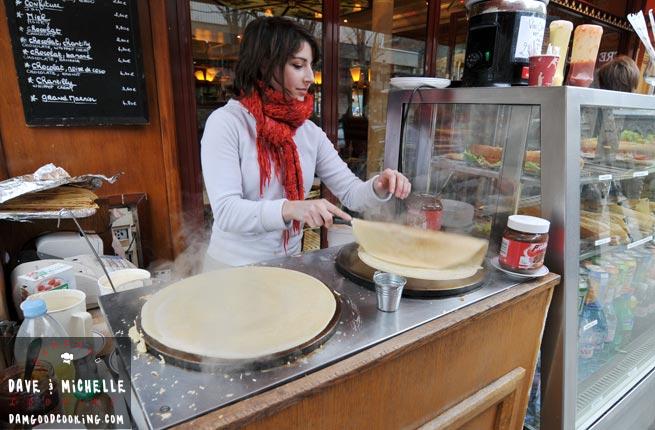 CRÊPES
Where to Eat It: Paris
Available any time of day, the crêpe is a beloved feature of any Parisian street scene. Savory crêpes, usually made with buckwheat flour and served for lunch or dinner, are commonly filled with ham and cheese, though you can find versions containing vegetables, eggs, and other meats. Sweet crêpes, typically made with wheat flour and served for breakfast or dessert, contain sugar, fruit preserves, custards, or Nutella. For the widest selection in the city, head to the boulevard Montparnasse, where you'll find stand after stand of budget crêperie options.
EGG WAFFLE
Where to Eat It: Hong Kong
Egg waffles (gai daan jai in Cantonese) first appeared on the streets of Hong Kong in the 1950s, and they've been a popular snack ever since. Their unique look is produced by cooking an eggy batter between two metal plates of semi-spherical cells over an open flame or electrical heater. Egg waffles are best eaten hot off the griddle, and usually enjoyed plain, though you can find spots that will add fruit or chocolate. Some vendors even have different flavors of batter, such as chocolate, green tea, or ginger.
ESPETINHO
Where to Eat It: Rio de Janeiro
In Portuguese, espetinho means "little skewer," and you'll find them sold from small charcoal grills all over Rio and the streets of other Brazilian cities as well. The most common varieties are spiced beef or chicken, but anything that can be stuck on a skewer can be found: sausages, hot dogs, shrimp, cubes of fish, and even a non-melting cheese called queijo coalho. Vendors often have some sort of hot sauce on hand to spice up the skewers, as well as farinha, the crunchy, gritty flour that Brazilians enjoy sprinkling on their meat.
CURRYWURST
Where to Eat It: Berlin
Currywurst has only been around since 1949, but it's become an icon of popular German culture in the decades since. This hearty street food combines a steamed-then-fried pork sausage with ketchup and curry powder, all of which is typically served with French fries or bread. Currywurst is served across Germany—an estimated 800 million currywursts are consumed in the country every year—but it's particular popular in Hamburg and Berlin. Typically, the sausage is served whole, but some places serve it pre-sliced.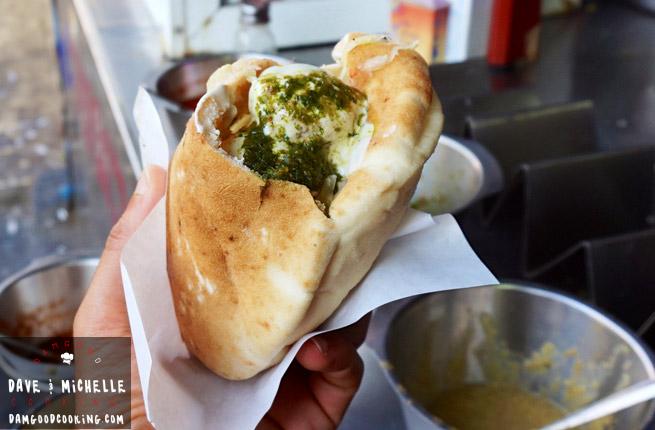 FALAFEL
Where to Eat It: Tel Aviv
The origins of falafel are unknown and controversial: Egypt, Palestine, Israel, and other nations have all laid claim to it. Regardless, it plays a large role in Israeli cuisine and is widely considered to be the national dish. The word falafel refers to deep-fried balls made from chickpeas, though it can also mean a sandwich containing the fritters. Served in a pita, falafel can be topped with salad, pickled vegetables, hot sauce, spices, and tahini sauce. Though it's widely available around the world, you're likely to find that the falafel you get on the streets of Tel Aviv edges out any other you've had before.
HOKKIEN MEE
Where to Eat It: Singapore
Singapore has one of the world's most vibrant street-food cultures, and Hokkien mee is a classic dish to try while you're there. Invented in the years following World War II by Chinese sailors from Fujian Province, this stir-fried noodle dish contains rice noodles and egg noodles, pork, egg, shrimp, squid, garlic, bean sprouts, and soy sauce. The dish is often garnished with lime and a chili sauce called sambal; traditionally, pieces of lard would have been added as a finishing touch, but that has largely fallen out of favor for health reasons.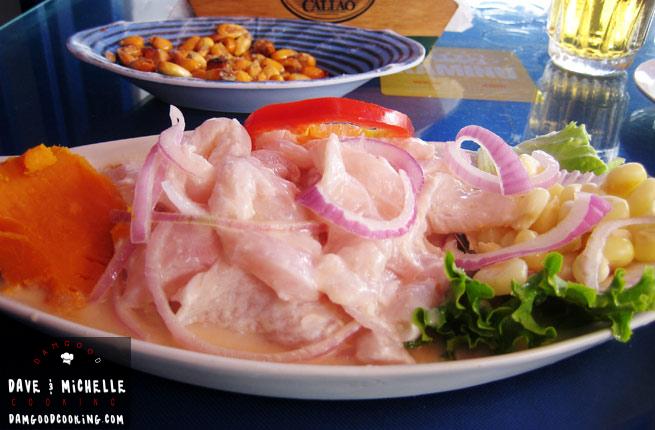 CEVICHE
Where to Eat It: Lima
Served throughout Peru, ceviche is widely considered the county's national dish—there's even has a holiday in its honor—and it's increasingly popular overseas. The recipe is simple: fresh chunks of raw fish are marinated in citrus juices and mixed with sliced onions, chili peppers, salt, and pepper. Because freshness is key, ceviche is usually served within minutes of being prepared. Sea bass is considered the traditional fish of choice in ceviche, but in Lima, sole is the preferred option. It's also not uncommon for ceviche to be served with some sweet potato, lettuce, corn, or avocado.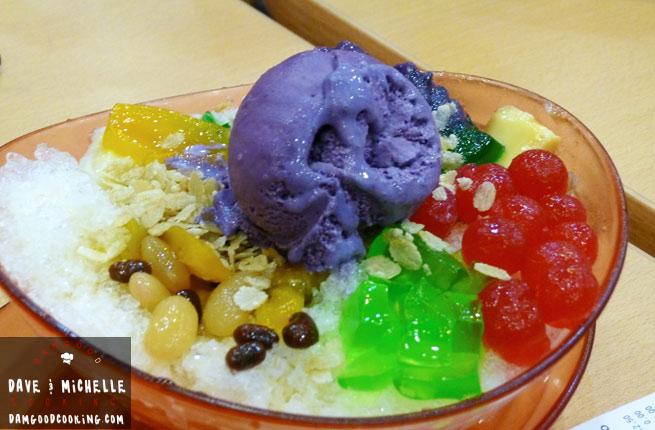 HALO-HALO
Where to Eat It: Philippines
Directly translated as "mix-mix," halo-halo­ is one of the world's craziest sundaes, a perfect foil for sticky days in the Philippines. The main components are shaved ice and evaporated milk; beyond that, a whole host of ingredients can go into halo-halo. Here's an incomplete list of what you might find inside: boiled kidney beans, garbanzo beans, sugar palm fruit, coconut, caramelized plantains, jackfruit, tapioca, sweet potato, crushed rice, flan, and ice cream. Though the dish may seem completely wacky, there are similar desserts served all over East and Southeast Asia