Emirates
Meal: Traditional Arabic Mezze, smoked tomato soup, bread from basket, Grilled fish briyani, Thai style chicken with sautéed vegetables, chocolate soufflé with mint sauce and Godiva chocolates
Air France
Appetizer: crêpe filled with salmon; truffle and asparagus tip canapé; tapenade blini with oven-dried tomato. Soup: Du Barry cream of cauliflower soup. First course: caviar and garnish. Main course: tornedos of beef with green peppercorn butter. Dessert: fruit salad.
Drink: Burgundy: Chassagne-Montrachet les Chenevottes 2007; Bordeaux: Pauillac Château Lynch-Bages 2006
Asiana
Udon Ramen, Assorted Fresh Fruit Snack, Marinated Shrimp and Prosciutto Main Courses Korean Royal Cuisine 'Gomtang'l Korean Traditional Beef Rib Soup Served with various kinds of side dishes and Steamed rice Or Beef Brochette/ Served with Teriyaki Sauce Vegetables and Egg Fried Rice Or Potato Crusted Orange Roughy Served with Mustard Cream Sauce Shrimp and Mixed Vegetables Dessert Fruit
Cathay Pacific
Caviar and Balik salmon "Tsar Nicolaj" Cauliflower veloute with tandoori prawn and mint yoghurt dressing Butternut squash and ginger agnolotti with duck confit sauce and caramelized pearl onions. Fresh berries with cream Pralines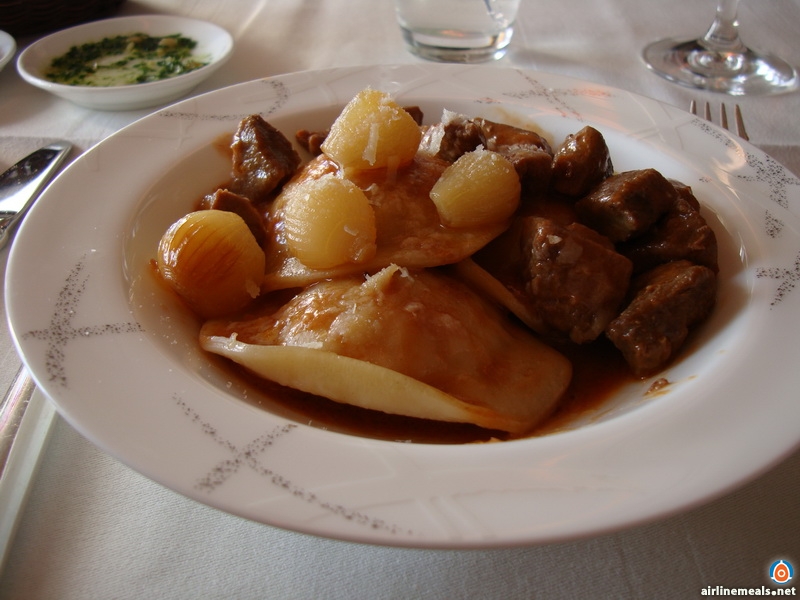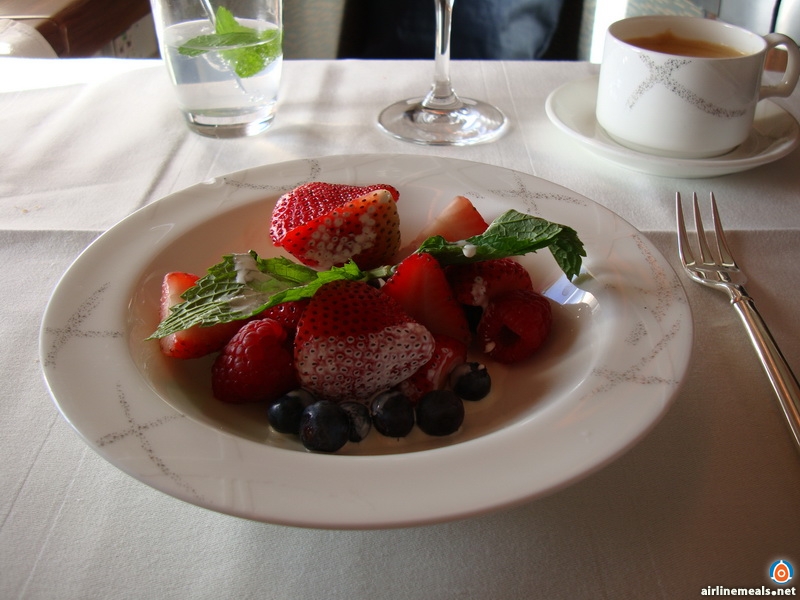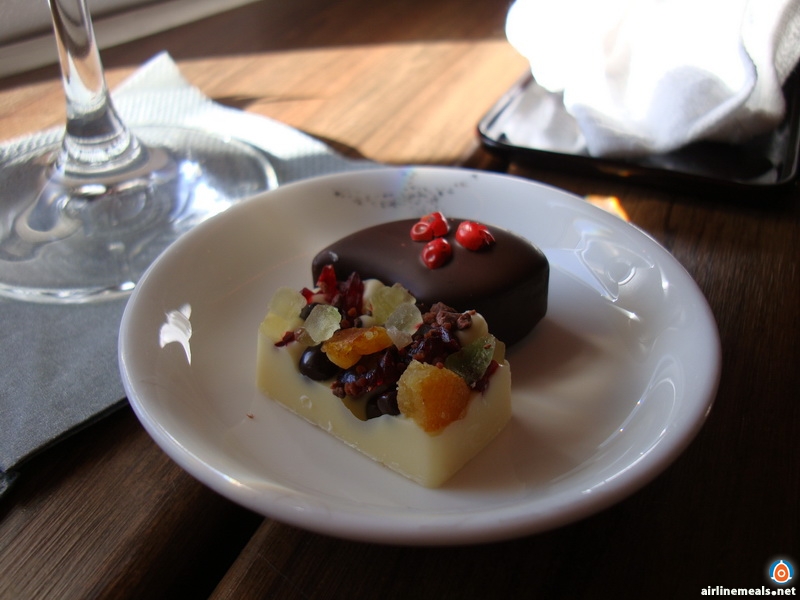 Japan Airlines
Seafood Bouilabaisse Jelly with Seasonal Vegetables served with Fresh Lime Vinaigrette Consomme with Spring Vegetables "Printaniere" Seared "Wagyu" Beef Chateaubriand with "Perigourdine" Foie Gras Truffle Sauce "461kcal" Special Grown Fresh Salad Assorted Cheeses (Blue, Camembert, & Cheddar) served with Fig Red Wine Compote, Roasted Nuts Japanese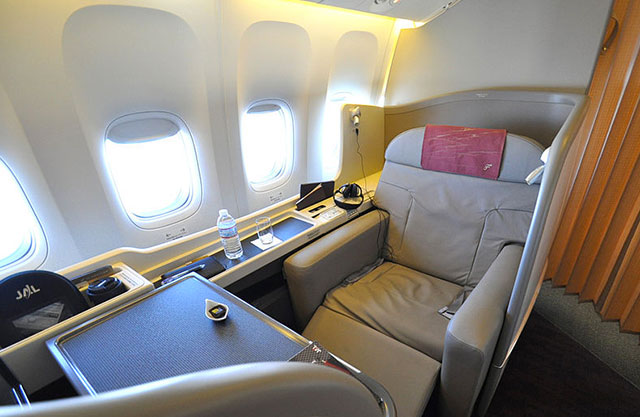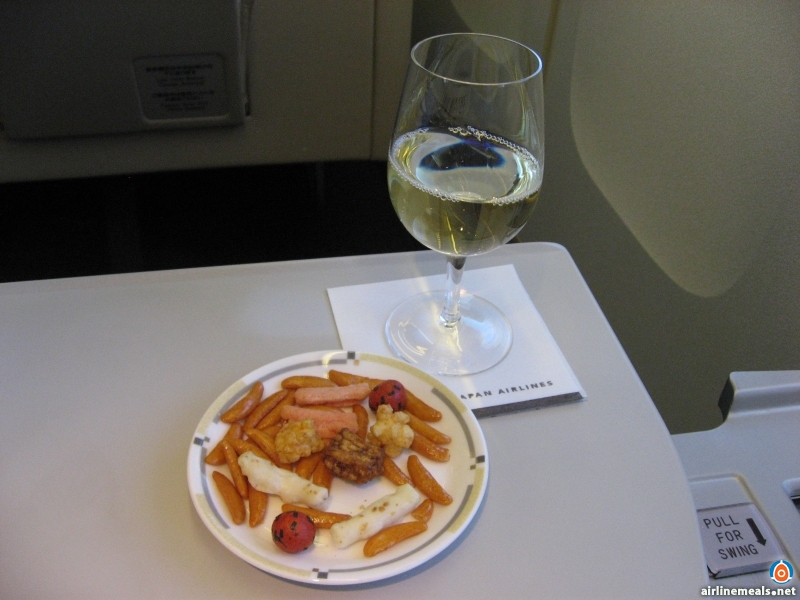 Thai Airways
Meal: Cavier, Crab Salad, Basil & Chilli Sorbet, Lobster, Fruits Selection, Dessert and Breakfast before landing
Drinks: Dom Perignon, Wine, Beer and Soft Drinks
Swiss Air
Meal: Fillet of Balik salmon, lobster cocktail with papaya salad. cold cucumber soup with gonger, warm apricot tarte tatin with strawberry sauce Gruyere double cream ice-cream, sprungli
Drinks: Champagne Laurent-Perrier, red wine- Cuvee du Patrimoine 2008, still watercoffee- ristretto
American Airlines
Warm nuts to start meal. Appetizer – shrimps with grilled pineapple and cucumber relish. Salad with red quinoa and tabbouleh served with a pepper cream dressing. Main dish – grilled fillet of beef with haricots verts and mashed sweet potatoes. Cheese plate. Dessert – ice cream sundae with chocolate fudge and whipped cream. Baskets of fruits and package snacks. Pre-arrival snack – cranberry oatmeal cookies.







Singapore Airlines
Sakura tofu, umadashi jelly, wasabi, shiso flower Baby squid, simmered prawn and spring cabbage Marianted clam, bamboo shoot, green beans, mountain vegetables and salmon roe Mukozuke Sea bream marinated with kelp, ume shiso dressing Baby leaf Oshinogi Cha soba with granishes Sea bream sushi, simmered octopus, Ginger Futamono Miso flavored braised Wagyu Beef, flower wheat gluten Red konjac (yam paste), spinach, leek julienne Nino-Zen Yakimono Spanish mackerel saikyo-yaki, pickled turnip, yuzu julienne Grilled Chicken roll with vegetables, vinegared lotus root Gohan Steamed rice with sea bream Clear soup with clam, kinome leaf and udo Assorted pickles Mizumono Seasonal fruits with wine jelly in orange shell International Selection Canapés Satay With onion, cucumber, and spicy peanut sauce Appetizers Chilled malossol caviar With melba toast and condiments Chicken terrine with waldorf salad Soups Seafood Chowder Beef broth with shimeji and enoki mushroom Salad Salad of fruit tomato with mizuna, rucola and frisee Ranch dressing Miso Vinaigrette Main Courses *Seared beef fillet, cabernet sauce, creamed spinach with Parmesan cheese, roesti potatoes *Exclusively created by International Culinary Panel Gindara no saikyo yaki Grilled silver cod with saikyo-an sauce, seasonal vegetables and steamed rice Sautéed seafood in garlic sauce, capsicums and boiled parsley potatoes *Spinach fettuccine in Alfredo sauce with Swiss brown mushrooms and parmesan cheese Specially prepared meatless selection Desserts *Milk Chocolate mousse with vanilla ice cream, chocolate sauce and fresh raspberry *Exclusively created by International Culinary Panel Cheeses Saint morgon, blue stilton, red cheddar and brie served with grapes, crackers and nuts Fruits Fresh fruit in season Finale A selection of gourmet coffees & fine teas served with pralines
Etihad
Japanese Breakfast Sakizuke Clam/ carrot/ edible flower Kobashi Egg tofu with shrimp/ daishi sauce/ wasabi Yakimono Grilled mackerel/ egg rolled with unagi/ grilled fish cake Miso Soup Japanese miso soup with leek Gohanmono Steamed Rice Tsukemono Selection of seasonal pickles Kudamono Seasonal Fresh Fruit/ Green tea Panna Cotta