Ok, you seen our first home made Pizza disaster.  even thought it looked like Stevie Wonder made it, it taste like Emeril Lagasse Made it!
If you missed it, check it out here.
Lets get started
First thing you will need is Pizza Sauce.  Whether you decide to purchase some pre-made off the shelf or make your own home made sauce, your going to need some sauce for this recipe.  Looking for something tasty, home made, and different?  Try this one we just recently made.  You will have a lot of extra left over, but we made some excellent recipes we will share this week with you with the remaining sauce.  So give it a try – CLICK HERE TO GET OUR HOMEMADE SAUCE RECIPE.
Open up you pizza crust and begin spreading it out across your pizza pan.  If you don't have a pizza pan, use one of those square dishes you have laying around or a large plate.   Key to cooking, is improvise when you don't have the option.  I use a pizza roll we pick up from target for less than 20 10 bucks.  If you don't have one, an empty foil roll works great.  don't have empty foil roll?  Go to dollar tree, spend a buck on some cheap foil, pull the foil off, fold it save it for later and use your new ONE DOLLAR pizza roller =)
Get it nice and perfect and not shaped like our first odd mini monster pizza.  Why does this remind me of a big Moon Pie?  You know how long its been since I had a moon pie?  I really could use one right now!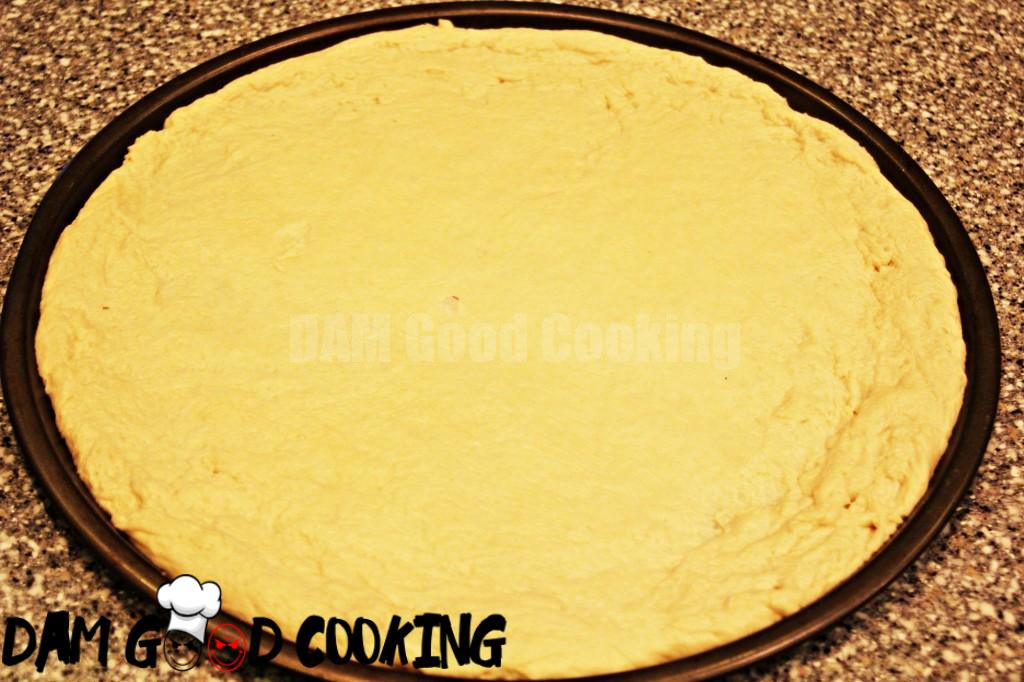 Apply you sauce, slowing pouring in the middle and spread out evenly, leaving a slight border.
Sprinkle your Mozzarella, extra if you like!  I used the whole bag!  Couldn't stop, I was like that Bus on the SPEED Movie.
Next Sprinkle your chopped Onions and green peppers.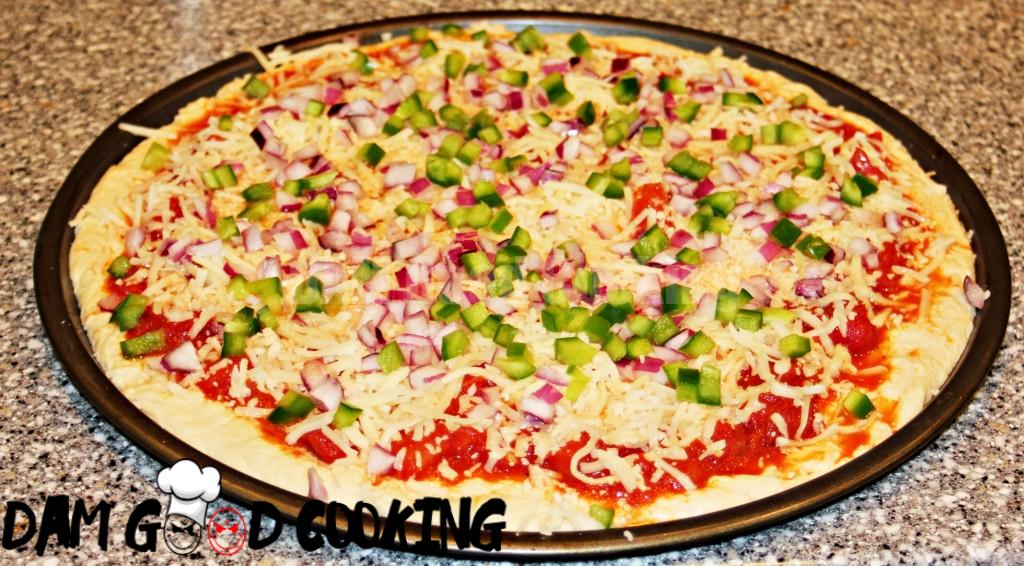 Now top it off with as much pepperoni you like.  You can even layer them if you require more!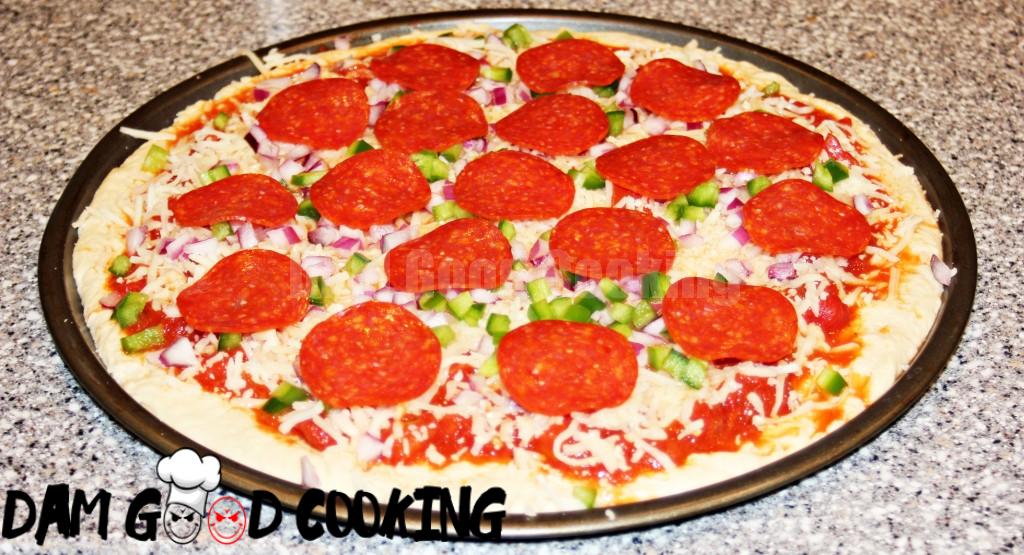 Now get that baby in the Oven for 15 mins.  cooking time can vary, depending on your oven, so be sure to check on it slightly after the 10 min mark.
Here's what I got after 10 mins.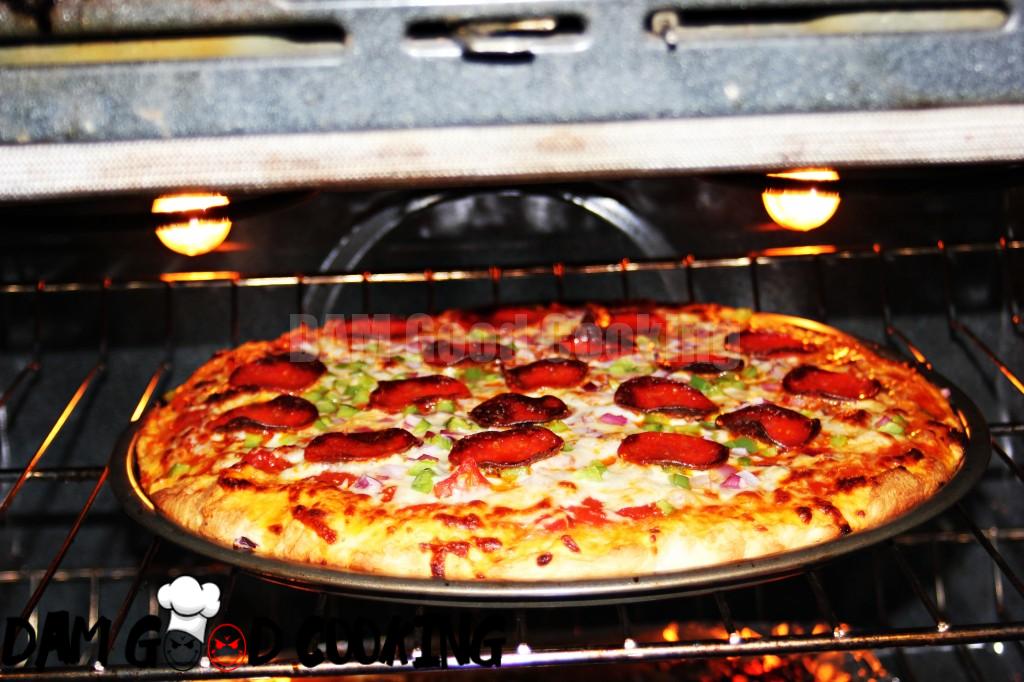 We just bought this house, so I'm still learning our new stove – NOTE TO SELF, I should have pulled it out around this time.  But crispy it good as well  (sometimes if you pull it out to early, you get this mushy doughy effect, like a nasty bubble gum bottom based pizza – you don't want that!).  Here is the final product.
ENJOY!
Scroll below for printable instructions, ingredients and steps.[wpurp-searchable-recipe]Dam Good Home Made Pizza – – – [/wpurp-searchable-recipe]