Vada Pav, India
vada pav starts with balls of spiced mashed potato dipped in a chickpea flour batter and deep-fried until golden. Next, thinly sliced green chili peppers are battered and tossed into the roiling oil. Meanwhile, soft chewy rolls are smeared with various chutneys like tamarind, mint-coriander or peanut-garlic. The roll is stuffed with one or two potato fritters, a clutch of golden chili strips and the whole beautiful mess is squished together
Chicken Rice, Singapore
The dish is nothing more than poached chicken served over rice.  The chicken is poached on a low simmer in a gingery broth until perfectly cooked, still moist and juicy. The same broth is also used to simmer the jasmine rice, after it's been sautéed in ginger and garlic. Slices of chicken are served over rice with a side of broth, sliced cucumber and hot sauce
Jerk Chicken, Jamaica
Real jerk chicken is smoked, not grilled, over the native pimento wood, the same tree that gives us allspice. The chicken pieces are laid directly on top of green pimento logs, covered with metal sheets and smoked to a fall-off-the-bone-tender state using indirect heat from the smoldering coals beneath
The sweet notes of the pimento smoke add complexity to the fruity heat of the jerk marinade: a blend of Scotch bonnet peppers, allspice berries, green onions and fresh ginger [
Pork Satay, Thailand
Pork satay is marinated in a sweet and spicy paste of lemongrass, shallots, garlic, red chilies, galangal (a ginger-like spice) and fish sauce. While grilling, the pork skewers are brushed with coconut milk for a silky finish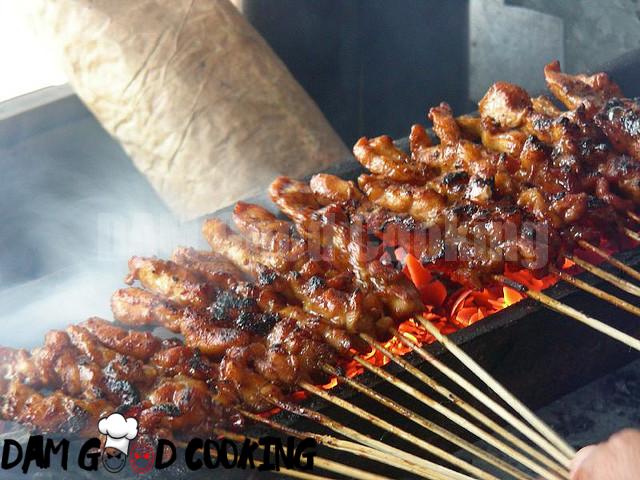 Currywurst, Germany
fried pork sausage cut into slices and seasoned with curry ketchup, regularly consisting of ketchup or tomato paste blended with generous amounts of curry powder, or a ready-made ketchup-based sauce seasoned with curry and other spices.
Banh Mi, Vietnam
The banh mi is the world's best sandwich. Hands down.  A world-class bahn mi starts with the bread, a fresh-baked mini baguette. The baguette is sliced lengthwise and slathered in mayonnaise and a thin spread of pâté. The meat of choice is usually barbecued pork, although Vietnamese-style pork meatballs, pork "roll" or Vietnamese salami are other solid choices. Then the veggies: thin-sliced cucumber, pickled daikon radish and carrots and a handful of cilantro
Kolbice, Hungary
Grilled sausages in a cone-shaped bread and served with roasted onions or sauerkraut on top
Fish Ball – Hong Kong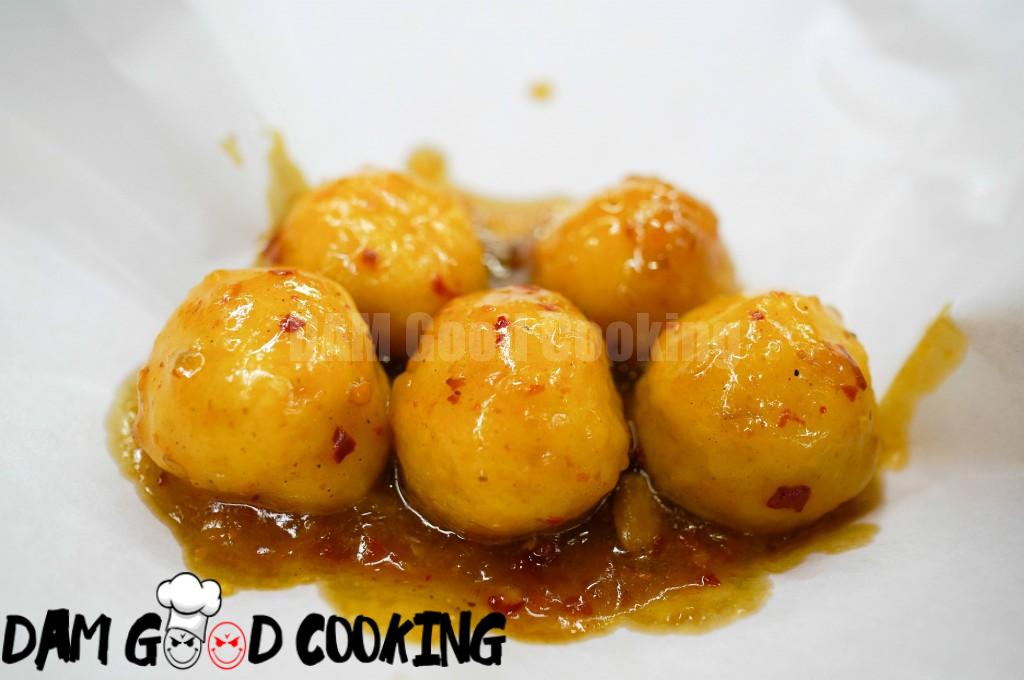 Tostadas de Ceviche, Ensenada Mexico
A gorgeous union of fresh squid, scallop, and crab with crackly, thin tostada bread is complemented by citrusy salsa and avocado.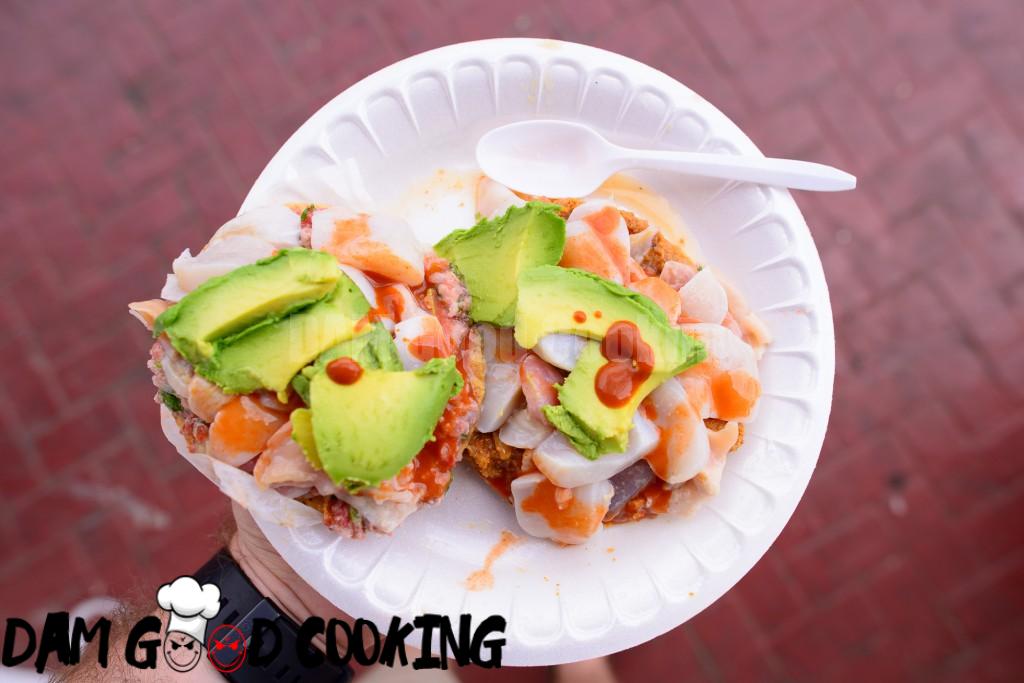 Bunny Chow, South Africa
Quarter, half or whole portions of a hollowed out loaf of bread filled with a variety of thick curries. As you might guess, bunny chow has its origins in India, but it is now Durban's most famous street food, with spicy fillings ranging from chicken to mutton.
Poutine, Canada
French fries smothered in cheese curds and gravy
Basko, Indonesia
Ground beef balls, cooked in a clear broth with noodles, egg and shallots.
Bhel Puri, India
Puffed rice, fried vermicelli noodles and vegetables drizzled in tamarind sauce. Look out for versions with added peanuts and pomegranate seeds, too.
Ceviche, Peru
Classic ceviche preparations are a mix of fish, salt, red onions and ají,
Bacon Wrapped Hot Dogs, Los Angeles, United States
Bacon wrapped hot dogs topped with grilled onions and peppers