The French Laundry restaurant was opened in 1994 in Napa Valley and became famous for its stunning and inventive presentation as well as for the use of only fresh ingredients. You can choose between two types of menus for $310 – the chef's tasting menu or the vegetable-tasting menu. These menus change daily and don't use the same ingredient throughout.
The French Laundry is located in a charming two-story stone cottage in Yountville, California, in the heart of Napa Valley wine country.
1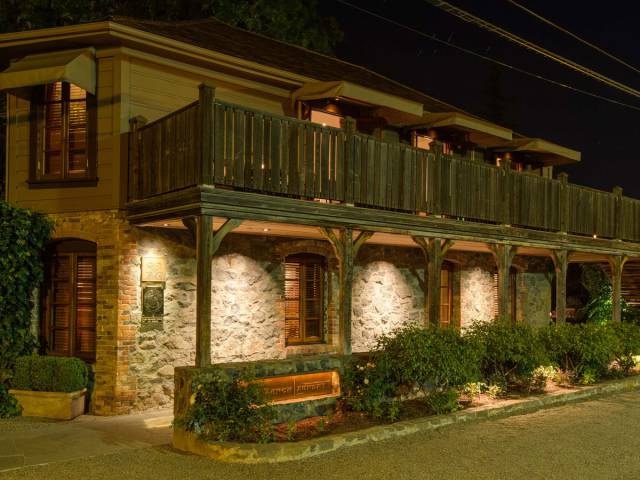 It is surrounded by gardens and greenery and has a quaint courtyard for diners. Guests enter the restaurant through this blue door.
2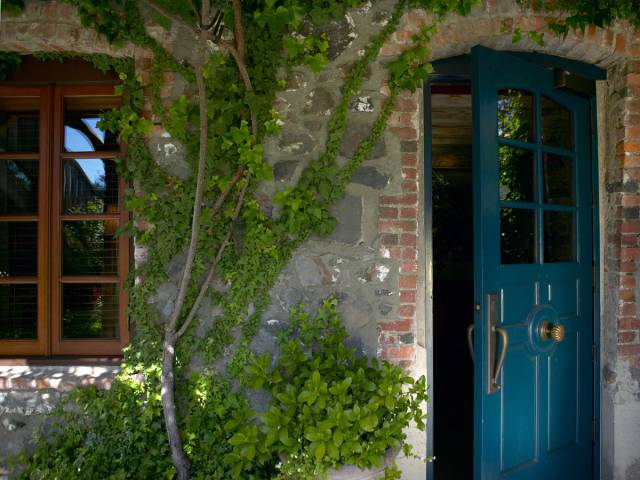 The menu changes on a daily basis, based on the freshest ingredients available. The French Laundry has a culinary garden from which many of its ingredients come.
3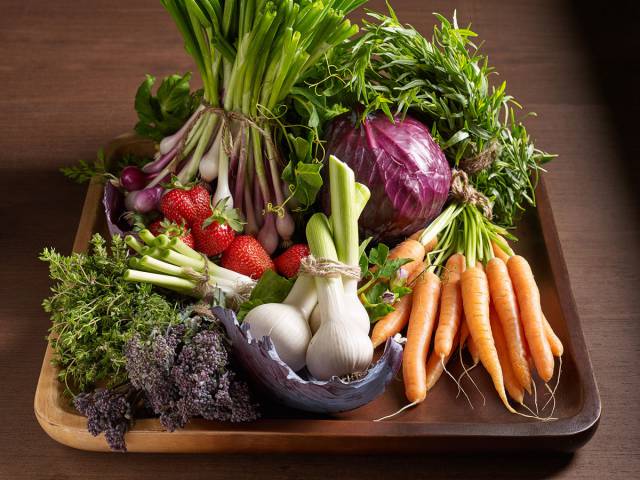 Details like these special clothespins add a sense of elegance to the dining experience.
4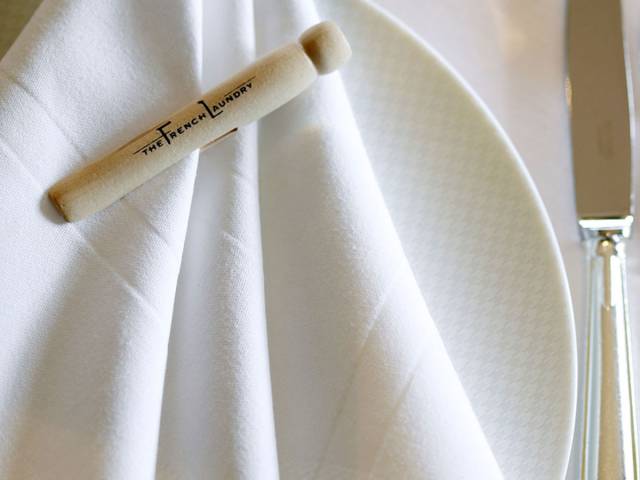 Inside, guests can sit in the main dining area or reserve the restaurant's private dining room, which is available for parties of eight to 12 guests. The space overlooks the culinary gardens outside.
5
While dishes change on a regular basis, guests can always expect a plate of gougères, a savory French pastry with a cheesy inside.
6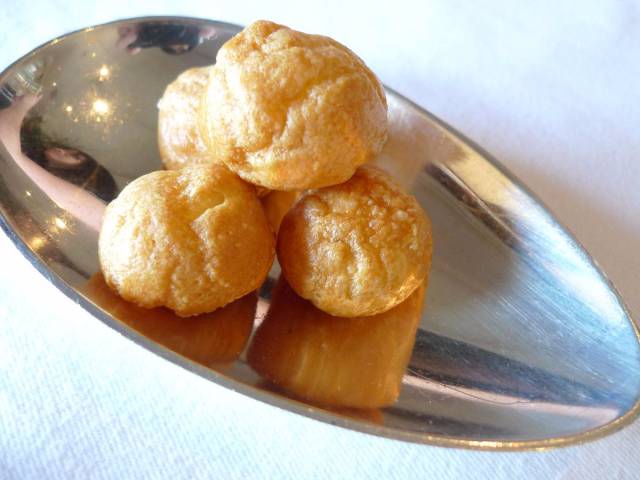 Another regular dish is the salmon cornets, which include a mix of salmon tartare and red onion crème fraîche in a buttery cone.
7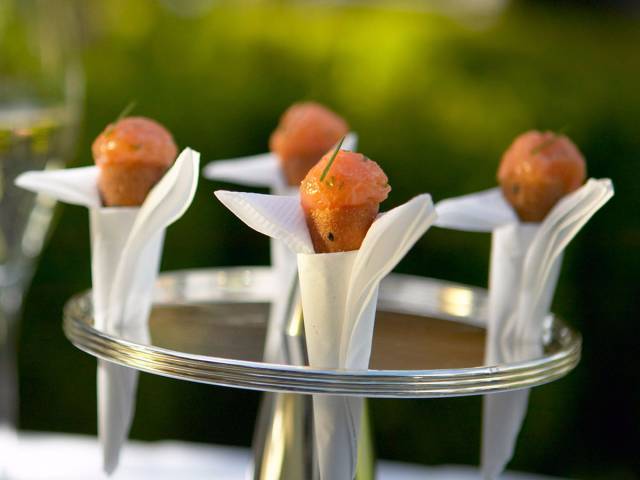 Various bread selections are available from Bouchon Bakery. Pictured here is a pain au lait served with unsalted goat's milk butter and whipped salted cow's milk butter.
8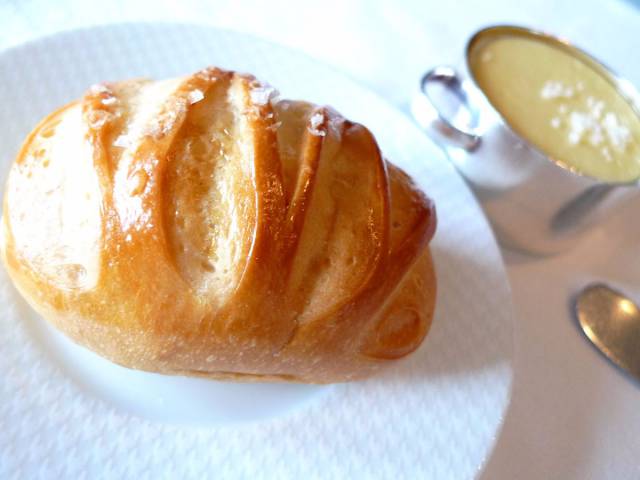 Dishes will also typically include a salad with ingredients from the garden. The type of salad will vary based on what is in season. Pictured here is a salad with poached white asparagus and peppers.
9
The menu also typically includes two fish courses. This plate includes wild king salmon served with radishes, English peas, hen egg mousse, and bronze fennel.
10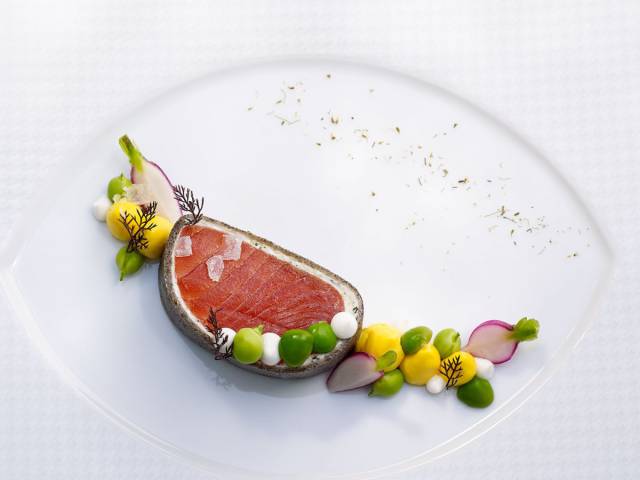 Another example of a fish course is this plate of Japanese Toro served with mandarins, eggplant, fennel, and olives.
11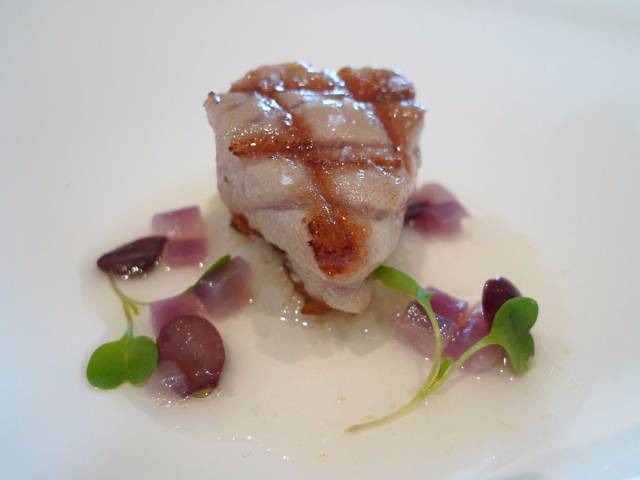 There are also two meat courses, which will again vary on a daily basis. Pictured here is glazed, nature-fed veal served with Yukon Gold potatoes, baby red beets, Brussels sprouts, horseradish créme fraîche, and a sauce "borscht".
12
Plates like this beef tartare — which is accompanied by carrots, Tokyo turnips, hen-of-the-woods mushroom, pickled garlic, frisée, and a red wine reduction — are light, yet full of flavor.
13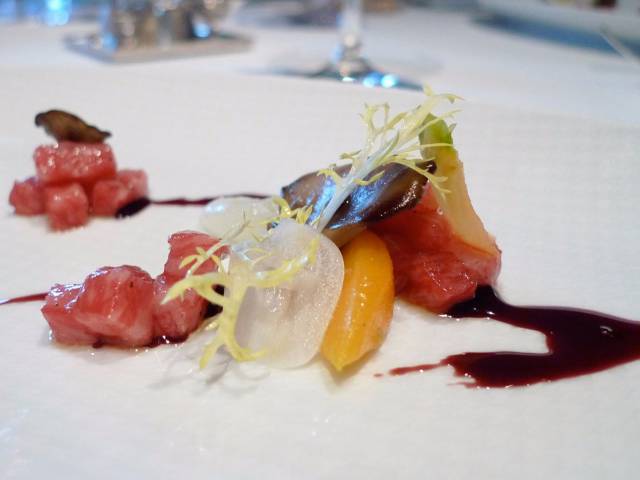 Cheese courses are also served during the meal. Pictured here is a ricotta basil anolini with sugar snap peas.
14
This cheese plate incorporates broccolini, sweet peppers, panisse, 100-year-aged balsamic vinegar, and olive oil.
15
Here is another cheese dish with Comté, bacon, caramelized onion pain perdu, romaine lettuce, and a tomato compote.
16
The restaurant also offers a vegetarian tasting menu for $310 per person, which gives you dishes like this mix of compressed garden cucumbers, preserved green tomatoes, and Brokaw avocado mousse.
17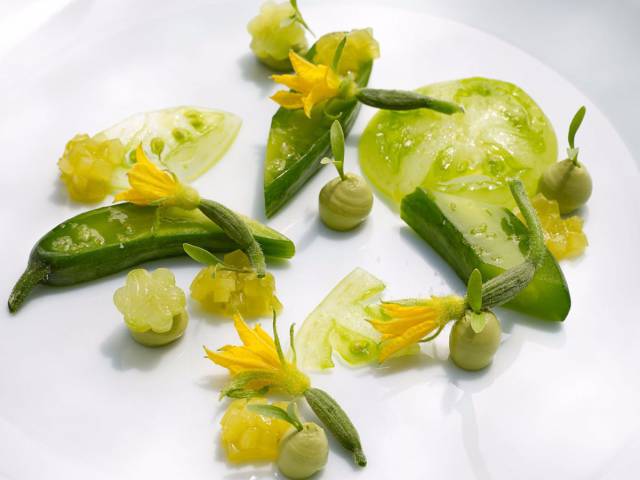 This dish includes romaine lettuce, sugar snap peas, fennel bulb, radishes, and a port wine reduction served in a delicious golden puff pasty.
18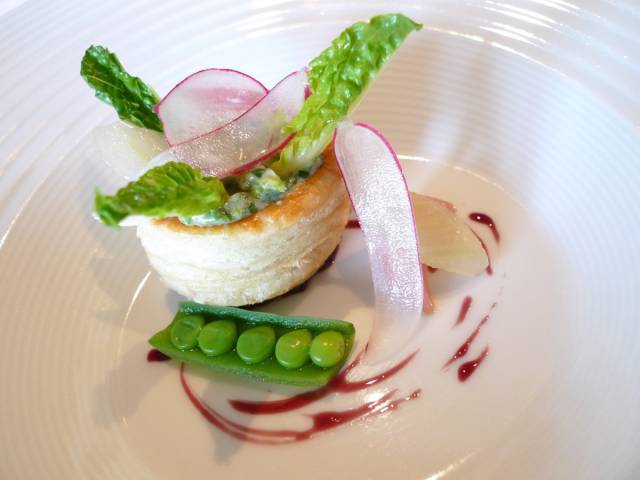 The restaurant also offers caviar, foie gras, truffle, and Wagyu supplements for guests who want to expand the offered menu.
19
Here is an example of a truffle selection that includes a generous serving of white truffles grated over risotto.
20
The dessert selection is quite extensive and includes macarons.
21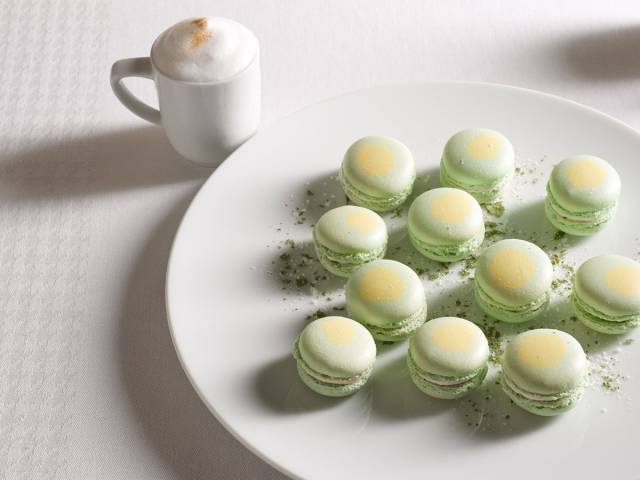 Diners are also treated to Thomas Keller's signature cinnamon-sugared doughnuts to go with their coffee.
22
There are also toasted macadamia nuts that are rolled in chocolate and caramel, then dusted with confectioner's sugar.
23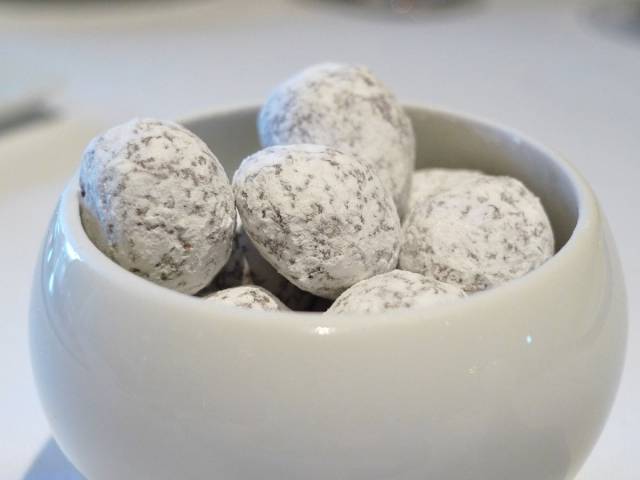 Those with a sweet tooth can treat themselves to handmade chocolate candies…
24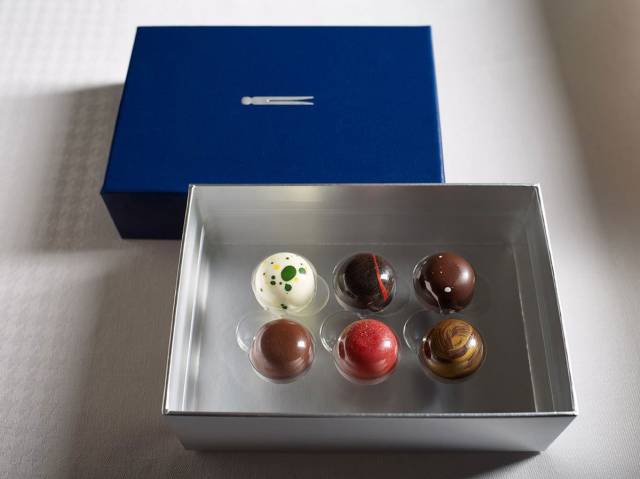 … or indulge in treats like toffee crisps.
25
There are also profiteroles served with ice cream in a beautiful and intricate design.
26
Or a Victorian sponge cake served with fresh fruit.
27
Here's a strawberry cheesecake with compressed peaches and black pepper syrup.
28
Pictured here are Jacobsen Orchards mulberries served with Anson Mills grits, mascarpone, and lemon verbena.
29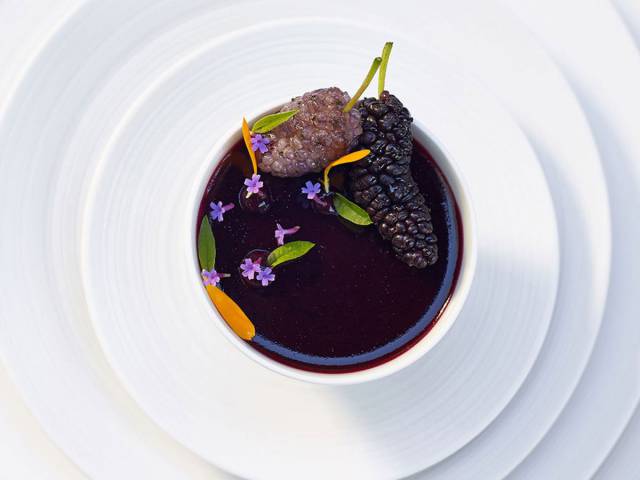 Diners are also given the opportunity to tour the kitchen.
30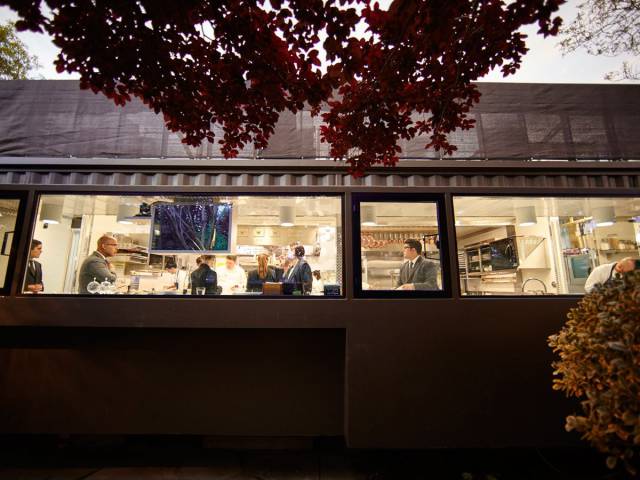 Finally, guests can extend their dining experience to the restaurant's courtyard, where they'll be treated to a selection of Chef Keller's rare spirit collection and a pre-embargo Cuban cigar.
31